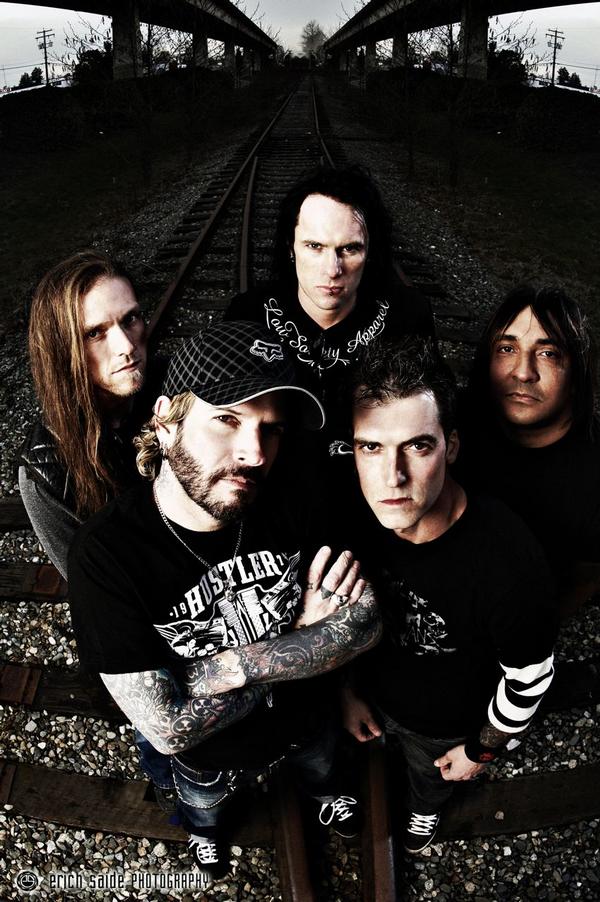 Kill Rhythm

By Lara

So a few years back when I was living in BC I heard about this really great band, Kill Rhythm. They made their way to Winnipeg this past February and rocked the roof off the Zoo 2 nights in a row. Winnipeg loved them and so did some very important people who book the bands for X-Fest.

I got to meet Weasel, lead guitar player for Kill Rhythm, when I made a weekend trip back to Vancouver and we hit it off pretty good. So I started thinking to myself "Hey Lara… "Cause you know that is what I call myself… well on a good day anyways, "why don't you ask your friend if he'd be willing to share a bit about himself and the band."

And well here it is… straight from the keyboard of Weasel on to your screen.

BSW: Fill me in on how you become interested in music?
Weasel: (My older sister was a drummer and had a guitar so I started playing drums when I was 5 it was my first instrument I never really got into playing hard core until I heard a and saw Kiss Destroyer album that changed my life I was 8 or 9)

BSW: Another Kiss Destroyer fan!!
Weasel: What are your musical influences?
BSW: I'm all over the map, as a drummer I like Tommy Lee and John Bonham and as a Guitar Player I like Zack, Eddie, Slash and Dime these guys are great lead players but have some of the best rhythms of all time and I'm a big rhythm player.)
BSW: Does anyone else in your family play music?
Weasel: My Dad played the accordion he said he was great at it but I never have seen him play one lol and my sister was a killer drummer and hacked on the guitar a little.)
BSW: Where do you see the band 5 years from now?
Weasel: Wow that's a tough one, because we don't have a record label behind us at this point we can do whatever we want but its hard without all the push and money that they could provide, so in 5 years we could be playing to 10,000 people a show or dead in a ditch. It's kind of up to the fans, if they keep buying our records and coming to the shows we will keep making music and bring it to the people.)
BSW: What else do you do besides play music?
Weasel: What besides drinking beer, watching Hockey and chasing strippers?
BSW: Nothing wrong with that… a few of my favorite things also… lol .
Why did you decide to write Six?
Weasel: It was a song that I needed to write and the music just came to me over night, took 5 mins to put together. Garth came up with the vocals in one night and that was it, it is what it is.)
BSW: What is that song about?
Weasel: It's about my best friend Six he was a close friend of the band too, he owned Twin Villain Tattoo in Vancouver and he killed himself. It's about missing someone and wanting to see them again.
BSW: What does it take to play a song like that?
Weasel: well it's a fun song to play it has some really cool chord changes in it, people in the crowd always tear up when we play that live, so sometimes I space out when we do it because I start to think about Six.)
BSW: What is special about that song?
Weasel: That song means a lot to a lot of people and it's a heartfelt song, and everyone has or will feel a sense of loss so everyone can relate to that song.
BSW: What is it about the way you play that song that makes it different from other songs?
Weasel: It's just a personal song it's a real song and it means something to me.
BSW: What makes this type of music "good" to you?
Weasel: Well its real and it's got great groove and it fun makes you want to Drink, Fight and Fuck all at the same time now doesn't that sound good to you?
BSW: Why did you choose this music genre?
Weasel: Because it's fun to play and I love it.
BSW: How did you come up with your band name?
Weasel: Rob Thiessen my bass player came up with the name it's a song title from Catherine Wheel song. We were both big fans of that band plus it sounds cool
BSW: What inspires you to do what you do?
Weasel: It's in the blood and DNA I have to do this.
BSW: What's new in the recording of your music?
Weasel: We are working on new songs right now and should be going back into the studio at the end of summer, but we will be playing some of the new stuff live and testing it out on the fans.
BSW: How do you describe your music to people?
Weasel: I don't, I hate to do that it I tell them to check it out it's the only way to know if you're going to like it or not.
BSW: If there was one thing you could change about yourself, what would it be?
Weasel: Nothing I am perfect, just ask me and l'll tell you all about it.
BSW: Ah yes you have told me that before. A couple times I think. When did you first know you wanted to be a musician?
Weasel: When I was 8 I wanted to be the 5th member of Kiss)
BSW: What is it you love most about your fans?
Weasel: Oh man, Kill Rhythm fans are the best. They are so hard core and loyal when we play in Vancouver we have had fans fly out from Calgary and T.O and Winnipeg just for one show and fly home the next day, now that's a fan. Kill Rhythm Army Baby!
BSW: What do you want your fans to get most from your music?
Weasel: I want them to feel that they got what they paid for. Not just one song that they heard on the radio and a bunch of filler. I want to give them a CD that's great from the top to the bottom and a kick ass like show too and want more of it.
BSW: When can your fans expect the next CD out?
Weasel: Well if everything works out we could have a new CD out by the end of 2008 or early 2009
BSW: Is there a place to purchase your CD and other merchandise?
Weasel: Well I'm glad you asked because isn't that why we are all here to sell stuff? lol You can get our music from iTunes and Puretracks and a host of other online sites or you can go to www.killrhythm.com and get it from our online store and while you're there buy a shirt.
BSW: And most importantly... Could you tell me about your tour plans?
Weasel: This spring and summer we will be playing with Drowning Pool, and playing XFest all of our shows dates are posted on our website and updated weekly so visit
www.killrhythm.com
www.myspace/killrhythm.com
and we are on facebook too. So now that we have the inside details of yet another great Vancouver band coming through our great province make sure you get your tickets to X-Fest and when you get to meet Weasel make sure to tell him Lara sent you. And remember "Without music… life is silent!"