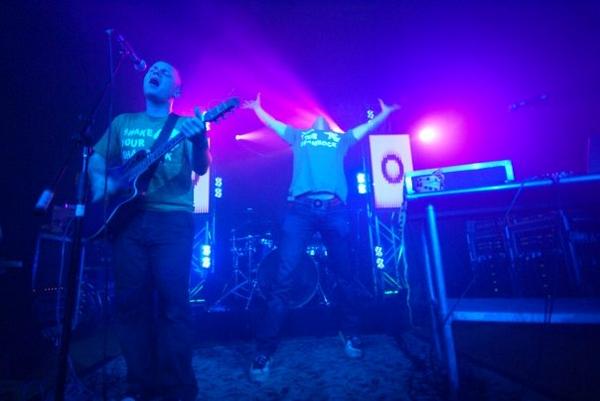 Interview with Ubiquitous Synergy Seekers

By Lara

Ubiquitous Synergy Seekers, what a very cool name for a band. It's unique and kind of sticks with you. Ash Boo-Schultz was kind enough to answer some questions for me about how they came about and what's going on with them. If there are typos I'm truly sorry but I didn't want to change any of his words and possibly misspell something that was spelled correctly.




BSW - When and how did you become interested in music?


USS - This foot tapping joy ride started really tapping off in 1993 after my pro hockey ambitions were thwarted by the onset of Crohns Disease which led me from athletics to theatre, due to the onset of puberty being delayed for six years. The first and only play I was in was a musical, a main stage production of Studs Terkels 'Working.' This experience got me singing and guitars and bands and drum machines and synths followed shortly there after.


BSW - What are your musical influences?


USS - The first tape I ever owned was Twisted Sisters 'Stay Hungry, followed by Duran Duran, then Men With Out Hats, then a M.A.R.R.S phase.  I went through a Rick Astley phase, then a Weird Al Yakovic phase, then a Doors phase, then an Easy E stage, then a huge Nirvana phase, a Hayden phase, then a Desmond Dekker phase, then a huge jungle drum and bass phase.  I was in a rap group and loved Wu Tang Clan, Tribe Called Quest and Jurassic 5. A Buddy Holly Basement tapes phase, a Beck phase, a Bjork Phase, then a Baroque Orchestral phase. A huge influence as well was my Polish uncle who consistently pumped Chuck Berry, the Rolling Stones, James Brown and all the Motown hits into and around environments I tended to migrate through.

The last music that I bought was a band called Vincat from Victoria, like Arcade Fire meets Broken Social Scene meets Dark Side of the Moon but a three piece, neat to the max that band.  I like to think of myself as more of a transmitter than a musician, in the sense that melody seems to be vehicle that gets a VIP pass through the skepticality filter of a lot of humans. I guess I am a musician in the sense that doctors are physicians and healers of the body and music can act as a healer of the muse or as asocial worker for the ability to be inspired. Generally speaking though, I only play guitar when we perform and at moments of inspiration, so my greatest influence is actually silence. I put very little calculatable thought into creation, when I don't think, I know.

BSW - Does anyone else in your family play music?


USS - I just learned that my grandmother was a concert pianist who played concerts in Germany and then at German social clubs when she immigrated to Canada.  My brother is a drummer and we played for half a handful of years in a psychedelic/pop/ska band called Quixonic.  My stepfather played guitar in a tower of power cover band and he was the one who insisted we all pick up an instrument.  Unfortunately, my first and only guitar teacher at age 10 was a long haired shredder whose lessons consisted of watching him shred, I cried when I had to go as I would have much preferred to play road hockey. An interesting aside is that all the males on my mom's side of the family have a remarkable knack for being able to play wipe out on tables with our hands.  My first guitar was a prototype of a Casio Synthesizer guitar that was never actually released that my stepdad got thrown into a side deal of a printing contract with Casio.  I was embarrassed, so I scratched the Casio off the head, now it would be cooler than outcast ice cool to have a Casio guitar.  David Hasselhoff is also my third cousin and a big popstar in Germany, but I don't want to talk about that so I just did.


BSW - Where do you see the band 5 years from now?


USS - Well if the Mayan calendar is a hoax and we haven't transcended 3rd dimensional reality, we see ourselves with passports full of stamps, bank accounts full of money, in houses besides rivers in forests with wind turbines and smiling, laughing and high-fiving every damn day. We would like to be collaborating with some of our favorite musicians and bands like DJ Premier, DJ SS, Kardinal Offishall and Cadence Weapon.  We would like to see our success and spotlight being shared with causes that aid in helping humans transition from misery to happiness.  It would be neat to be the first band to play inside the belly of a whale and on an iceberg in the same day but again lets see what happens with that Mayan calendar.  We want to perform beside the pyramids

at night time with lasers and camels and we would really love to be able to look back and see that we got to play in Seychelles, a tiny island north of Madagascar where one guy downloaded a live set we played. You know, play in the guy's living room for him and his family and then drink roiboos tea and play soccer.

BSW - What else do you do besides play music?


USS- I love reading biographies of exceptional eccentric humans who create and live with persistence, odd ballity and steadfast determination.  I just read Bjorks, Bachs, Spike Lee's, David Suzuki's and Mozarts biographies. I like sailing, exercising, other peoples cats, roofing, eating double cheese and pineapple pizza, reading about abnormal psychology case studies, riding my bike in High Park, listening to alpha signals and binaural frequencies, doing puzzles, respecting women, listening to stand up comedy like Mitch Hedberg and Steven Wright, early 20th century medical dictionaries, National Geographic magazine and missing my girlfriend and then seeing her. And I guess by default everything else. I also really like popcorn and philanthropy, however I am looking forward to having some more time available to volunteer my services to the forces of upliftment.


BSW - Why did you decide to write Hollowpoint Sniper Hyperbole?


USS - I was dog sitting a brilliant border collie for a corporate accountant and as I was falling asleep, I rubbed the magic lamp of the great genie in my mind and said, "Tomorrow, I will write the greatest song I have ever written."


BSW - What is that song about?


USS - Hollowpoint is essentially about the process of going from a psychotic sewer to an amniotic lighthouse.  It is about being brave enough to explore your dungeon to find the ship building plans and then with the right crew setting sail on a sea love to an unbounded utopia of monumental splendor and making out.


BSW - What does it take to play a song like that?


USS - Two hands, a guitar, a mouth and Kleenex cause the song always brings tears to my eyes.  The songs I write are like melodic chemistry for me in that the combination of endogenous chemicals that are created in the moment of inspiration and creation are recreated in the lab of my being each time I listen or play them.  That song really pulls at the heart beakers. Sometimes I feel like I should wear a lab coat whenever I play cause it's like science and pop music watching Labamba in a psychologist's office on the couch in the basement of my parent's recroom.


BSW - What is special about that song?


USS - Hollowpoint has become the catalyst for our wildest dreams.  It was born from a genie wish that continues to leave a trail of pixie dust everywhere it goes.  It seems to give all your cells really small hugs, one at a time, but simultaneously.  The song feels like your mom, not like your mom, but like a mom, like it's making you grilled cheese and pouring you some chocolate milk while you watch Weird Science for the 4th time in a row.


BSW - What is it about the way you play that song that makes it different from other songs?


USS - I guess it's that they just don't write progressive/dance/folk/sea shanties with psycho-pharmaceutical undertones like they use to.


BSW - Why did you choose this music genre?


USS - I was tired of only hearing drum and bass music in the mainstream in car commercials and sport high light reels.  There are types of bass signals in D'n B that most humans have never experienced and we wanted to help introduce them, like a blind date with low frequency oscillation.  As well, there is a new brain developing on this planet.  The new brain has multiple, multiple side chained processors, call it ADD, call it what you want, the system however is trying to assimilate itself while it builds itself. We feel like our music helps in this assimilation and engineering process.  And as well dancing and bouncing is of terrific benefit for your immune system, really gets that endocrine system pumping, so its a 170 bpm flu shoot sans super bugs as well.

BSW - How did you come up with your band name?


USS - I was frustrated and working in a printing factory and trying to quit smoking and was suddenly galvanized to write a manifesto that encapsulated exactly who I wanted to become. The title was Ubiquitous Synergy Seeker, an optimistic, resilient grateful magnet of equanimity and wonderment.


BSW - What inspires you to do what you do?


USS- Visiting my grandma at her nursing home and realizing that I will never be able to entertain plants and animals with tales of quest and quixotic adventures if I don't get out of bed.  Watching bands like Protest the Hero be absolutely brilliant and total morons at the same time is a sure fire source of awesomeness in the brain seat of inspiration. One time I was on some swings in High Park and this 4 year Japanese boy was on the swing beside me with his grandfather pushing him, he turned around and said, "I want to push you Grandpa" so they switched.  When the boy started pushing him the man smiled and then the boy said, "You can swing all day if you want to!" I tell myself that story when I am taking myself a little too seriously, cause I mean really, I could just smile and swing all day.


BSW - What's new in the recording of your music?


USS - As Mitch Hedberg once said, "There is no such thing as a broken escalator, they just becomes stairs." This has nothing to do with the question, I just think it's funny.  We have started incorporating a multitude of new sounds and sources.  We just worked with a gospel choir and a steel drummer.  Human Kebab's mom is playing accordion on our new Wesley Willis/Beethoven inspired song "Ode to Joyride" and the snare of our new track Sukha is supplemented by the sound of me slapping Jay's ass, just to really hammer home its clubbing bangin' capability.


BSW - How do you describe your music to people?


USS - Neo-Vaudvillian pop-step or progressive dance folk, depending on the time you called.


BSW - When did you first know you wanted to be a musician?


USS - One of the first songs I ever wrote called Ties of Affinity made my sisters' friend cry and the concept of being a musician kind of hit me in the face with a frying pan.


BSW - What is it you love most about your fans?


USS - We have been described as the Ferris Buellers of music, as our shows are like all the cliques in your high school going to Chucky heese together and wearing blinking visors and high fiving each other.  We love that they support the concept that as much as Human and I love roofing.  We are much more likely to be the change we want to see in the world by pounding out beats instead of roofing nails.


BSW - What do you want your fans to get most from your music?


USS - I have heard multiple baby boomers complain that our generation feels too entitled and that we don't really know how to suffer and to an extent I agree with that. We value the concept of becoming emotional responsible, transcending victim culture and embracing the feeling that anything is possible. Christopher Reeves once said after he became a quadriplegic that new realities were a three-step process from impossible to improbable to inevitable. We like to envision our music as being a part of that middle step, the soundtrack of possibility.

BSW- When can your fans expect the next CD out?


USS - We are toying with the concept of physically tying a copy of our next record to a rope on a big helium balloon and when the album drops that's when the album drops and our finest research on helium degeneration predicts that time to be sometime between September and January.


BSW - Is there a place to purchase your CD and other merchandise?


USS - Our CD's and merch are available on-line at www.killthe8.com, our songs are just clearing the iTunes I's and T's crossings, so they will be there any day now.  HMV has ordered a solid batch of our discs and they will be distributed to markets in demand, so, basically if the song hits radio.  They are immediately being shipped to Toronto and the Golden Horseshoe, Edmonton, Victoria, where Hollowpoint has been receiving solid spins.  If anyone would like to see the CD in their city call up your local stations and request Hollowpoint.  Spins will get HMV on board and what comes next is a tour stop, then dancing, smiling and laughing, followed by high fives and hugs.

BSW - And most importantly... Could you tell me about your tour plans?


USS - We anticipate that USS will be going national in the fall of this Annus Mirabilis or miracle year.  It has always been a goal of mine to reunite with my long lost relatives and return to Germany and perform and we anticipate an Atlantic crossing come winter.  This summer we are lined up to be light bright pegged into some great Ontario Music festivals, we are playing Edgefest, Scene Fest, WEMF and Cutting Edge Fest thus far.  Returning to the mystery near you, Ubiquitous Synergy Seekers unite!

http://www.myspace.com/ubiquitoussynergyseeker