MY ALICE COOPER CONCERT EXPERIENCE

By Malice Cooper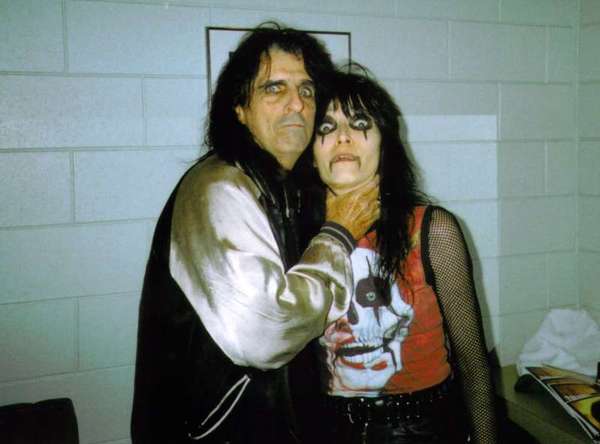 Well how do you describe in words what it feels like? This is gonna be hard. I've been trying to do it all day and I keep on not saying stuff right lol. I guess I'm still dazed my brains all in a haze. I don't know if I'll ever be the same again. Maybe that's for the better though.

Ok, I got to the concert and everyone was right this way Ms Massey or Cindy Massey or Malice. That was totally cool, so I had started off the night feeling really important. Even Rick was like going holy cow everyone knows Malice what's going on lol.

The concert started and I was singing and screaming. Alice pointed at me and said "some girls you wanna kick in the head". At that moment I thought oh no, I'm going to walk into the room and Alice is gonna kick my lil bum.

I continued to thrash about like the rest of the crowd. No one was seated that I saw. As far as I could tell everyone was singing and dancing. It was truly a beautiful sight and sound. There are a lot of good singers in this city. Choir practice pays off lol.

Although of course it's not the same show all the time is it. What wasn't played by Alice was played on the piped in music. So we got a lot of Alice here boy oh boy. It was a really big, no huge, musical spanking that I and the ol' Peg got this night.

Hmm...Calico was absolutely awesome on stage. The guys were drooling. They were telling me to give her their numbers and all. Unfortunately we weren't able to say hi to her this time. Sorry guys.

But back to the show, Alice in supreme form and finesse shock rocked the living heck outta me. Whether it was him whipping Calico around or throwing canes to the audience Alice stood like a giant in front of us all. He actually put a lot of oldies but goodies in the show for us this evening. We had a taste of all the Classics that we Winnipeggers love to rock out to.

Starting out with a Department Of Youth (only part of the song), No More Mr. Nice Guy, Dirty Diamonds (threw out diamonds to the crowd) Billion Dollar Babies (dollar bills of the sword and all wow), Be My Lover (all the girls wish they could), Lost In America (absolutely wicked version), I Never Cry (acoustically it was amazing), Woman Of Mass Distraction (song he pointed at me when he said some girls you want to kick in the head), Eighteen (complete with crutch), Between High School and Old School (still in awe), What Do You Want From Me (hmmm….can I get back to you?), Is It My Body (partly lol), Go To Hell (Nope I'm in Heaven), Black Widow Jam (Inc. drum solo) Gimme (If only I could lol)Feed My Frankenstein (he put together the pieces in a huge coffin), Welcome To My Nightmare (thank you and it was a nightmare and a half, I don't think I'll ever be the same again in an awesome way of course), The Piece includes "The Awakening" / "Steven" / "Only Women Bleed" / "Steven" / "Ballad Of Dwight Fry" / "Killer", (That was totally awesome) I Love The Dead (band vocal only/instrumental), School's Out (YAY…balloons were a flying), Poison (sang the girl part and Chuck was trying to see where it was coming from…hey Chuck it was just me lol.), Wish I Were Born in Beverly Hills (Calico and her little dog, lets just say she wasn't in Kansas. Her lil doggie ripped her throat out. Then Alice paraded and skipped around with her purse/dog. It was humorous to say the least. I was laughing like a school girl.), Under My Wheels (the whole time this concert is going, the audience sang with Alice and acoustics at the concert hall, man I hope he recorded.)

Alice was yet again beheaded in front of us. I wish I knew how he makes his head grow back all the time…I have to keep sewing mine back on and it sucks. Of course I'm kidding with you geez people lol. We all know that Alice and I are like the Wiley Coyote cannot be killed by a mere Guillotine. With Calico pulling that string of death, it was off with Alice's head. I tried really hard to see as the guillotine was right in front of me. Well 4 rows up but in front of me. Such a beautiful specimen it is too equipped with an evil looking angel on top. I was thinking it's just the kind of model I'd like to have. I'll have to ask him where he purchased it.

Mostly the new line up was very awesome. It's not the same but it's not something you can compare either. All Alice's band members no matter who they are rock. He's always got really awesome musicians. So, although I did miss saying hello to Ryan and Teddy, I know that some day they'll be back and I'll see them again one day. Besides I can talk to them by email anytime so I don't have to completely miss them. If I had no contact with them well then I'd miss them terribly.

Anyways, after the concert there was a young man there who had golfed with Alice during the day and me waiting to see Alice. There were supposed to be 40 people. So they take us and put us in a room. Then they came and got the young man and his father. They got to see Alice for a little while.

Then it was my turn. As I took a deep breath and walked into the room, there was Uncle Alice sitting on the edge of a couch. It was a low couch I probably would have sat on the edge of it too. Like on the arm instead of the couch lol. He got up and greeted us.

He told me that he likes to get my emails. He asked us how we like his new lineup. Rick spoke up and said they were awesome. I was just in awe....I was really there...wow...just looking at Alice with well, you can see the size of my eyes...they were that wide quite a bit. So after saying that he said do you have anything you want me to sign. I said I would like a picture of him strangling me. He said ok sure no problem.

So as he applied pressure Rick took the picture. Then we just started acting up after that. Rick snapped a couple pictures off, darn windup cameras take too long.

Then he said well, I'm sorry I have others waiting for me but I would like to see one of your shows one day. Of course, now my jaw was dropped to the ground if I would have taken a step I would have tripped on it you know. So I finally said I'll let you know when we play next I promise. I'll always tell you when we play...and like that he was off to the 40 people that were waiting to see him that somehow now they found. They had all the security people looking for them, and they were in the concert hall. I was just in shock and I had hoped that I didn't take up too much of his time. I would hate for others to lose out. I didn't know they were there. Oh man, I'd feel terrible if they didn't get to see him or something.

After we talked to Chuck and Eric for a little bit. Mostly we were happy to see Chuck again; meeting Eric was a bonus as well. I had really hoped they weren't leaving so soon. But oh well, what can you do I was fortunate to spend time with them all at all.

So we were on our way to leave and they pointed us to another set of doors. Well they started pushing people back so they couldn't be near us, and we walked by the bus waving to all the windows.

We got into my little white care and we went to a local club called the Toad in the hole with the opening act Crash Kelly. When I walked in everyone was talking to me. This one guy came up to me and said Alice is on his way here in a little white car. I didn't have the heart to tell him it was me.

After that everyone kept flicking me in my jock thing....I don't know what that's all about its definitely new to me. I don't know do I get mad or happy????

Anyways, after meeting the Jagermeister rep, 2 Johns, Crash Kelly, a person who wants to write an article on me who shall be nameless at this time, because he hasn't contacted me yet. We started then on our way home, yes Malice was driving her little white car (don't hit me honk or wave please, it has cow front seats). We stopped at 7-11 and I forgot I was wearing the Malice stuff still lmao. She just thought I was a fan of Alice's thank goodness people in Winnipeg don't think twice about people being dressed like Alice I guess. There were about 8 other people that I saw. They had all different Alice eyes too. It was neat.

Some of you may recognize this from a forum post but, I wrote it so well that I thought I should just keep it this way.


---
Advertise with Backstage Winnipeg by clicking below
info@backstagewinnipeg.com