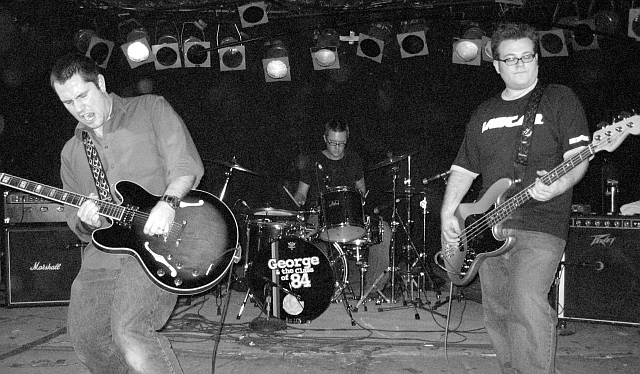 GEORGE & THE CLASS OF 84
Formed in late 1998 by Mike Onufreychuk, and Blaine Martinson, the project started as a basement recording experiment. Soon the two had enough material on tape and decided to put together a live group, recruiting Ian Strachan on drums. Writing and playing out proved fruitful, and after playing together under the name Slowjam for several years the band felt it best to go their separate ways in 2002.

A year passed and after toiling in other projects and bands the three members decided to reunite under a new name and band structre. With a new focus and musical direction, writing began and the band took to the stage in April 2004 for the first time as George & The Class of '84. Recording began in September 2004 and after a year of work, the band unleashed their new album "Weapons of Mass Distraction" in September 2005.

Mike Onufreychuk
Vocals, Guitar
Blaine Martinson
Bass, Vocals
Ian Strachan
Drums


http://www.georgeandtheclassof84.com