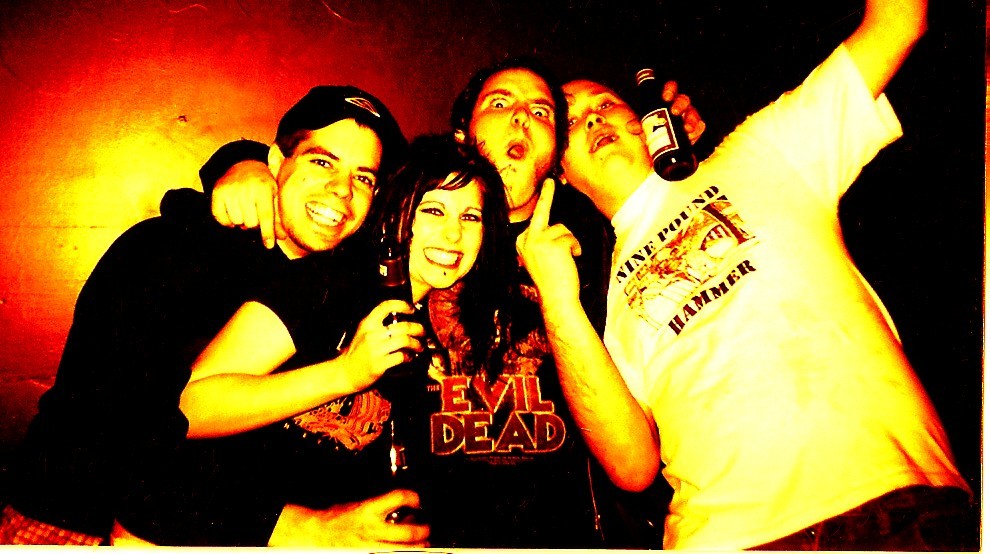 QUAGMIRE
quag·mire n.

1. Land with a soft muddy surface.

2. A difficult or precarious situation; a predicament.

3. Greasy schizophrenic rock n' roll band from small town Manitoba, whose songs and live shows are a predicament to describe…yes, a Quagmire.

Quagmire is the end result of four different people with four different sets of ideas and influences coming together to create one sound. Rock, Blues, Country and Punk all mashed together and stirred with a load of moonshine…top that off with soulful vocals, frenetic guitar playing and a solid rhythm section and you have the sound of Quagmire.

The formation of the band began many years ago in Winnipeg, Manitoba, Canada, with Chris and Brad teaching each other how to play. This eventually led to us meeting Shane and teaching him bass at first, but realizing that his vocal talents were, shall we say, better than his bass playing, we began a search for a permanent bass player. We finally found the final piece of our puzzle in Kalyn in 2004, and from the first drunken night, we knew we finally had a full band.

We started to play shows after a few months and began to attract a following in the local scene. The more we played, the more it seemed people were digging our music. This led to us recording our debut full-length "One For The Ditch", to finally have something for us, and the fans to be able to sing along with live. As we played more shows and had the chance to share the stage with many great local and touring bands, including Nine Pound Hammer, it has given us a chance to grow as musicians and performers and to find the right mix to always put on an entertaining show. When you see us play live, the only thing to expect is that we will leave every ounce of blood, alcohol and sweat on that stage. On stage is where our home is, playing music for us and whoever happens to stagger into the bar that night.

It's beyond a reasonable doubt that Quagmire is not just 4 people coming together as a band or friends, but it is much, much more….it's a way of life. Thirsty for the road, new venues and the chance to spread our music, we will take our instruments as far as we can and see what the future holds. Sticking together, in good times and bad, we always have the music to fall back on. It's the foundation to everything we have accomplished so far and just the start of the great things to come. So no matter what happens or whatever we do in the future, the collaboration of Chris, Kalyn, Shane and Brad is and always will be Quagmire.

http://www.quagmire.ca/