In The Trenches - Show reviews by Ryno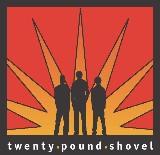 20 Pound Shovel Cd Release Party, Oct. 8, 2005 , Ramada Conference Centre
I'd never been to the Ramada Conference Centre before, it used to be the 'ol Garrick Theatre. I think that the last movie that I saw there was "Dude, Where's My Car?". Looking a bit like a lower scale Walker Theatre, the foyer and sit down atmosphere reminded me alot of the Walker . And I know you're saying "it's not the Walker anymore". I know, I don't care. It's still the Walker to me. If you wanna call it the Odeon, that's fine, too. The sound, however, was not as great as i'd hoped it would be. It sorta muddies the sound up a bit, which is odd--you'd think that an old movie theatre would be MADE for great sound.
First up on the night was Regrets of Romance, playing a screamo influenced set. I gotta say, screamo's not really my thang. I'm sure that it's someone's prerogative, but not mine. The band consisted of young guys that looked to be in their late teens. If they opened up their songwriting a bit--with some catchier choruses-- and dispensed with some of the overt aggression, they could get alot better.
20 Pound Shovel took to the stage afterwards, and it showed why all ages shows around these parts do way better than bar gigs---without getting all Michael Jackson on 'ya, it really IS about the kids. And they loved the band, but it wasn't hard to see why--lots of catchy pop-punk choruses, good energy, and an underlying spirit of connecting with each and every one of the fans there, most of whom were up front and standing and cheering enthusiastically. The bassist got so into the moment, that he missed a few bass notes here and there in his enthusiasm, but all
was well.
They got a good turnout, maybe 300-350 people there, which was great for their first real true big gig. And true, many of those people were parents doing the chaperone thing, but I doubt that the parents minded being there too much. Sure, it's innocuous, but it's also a whole lot of fun, too.
---
I am sad to say that Ryno, our newest contributor will be moving to Calgary next week. Will he still do show reviews? I am not sure at this time. We are truly going to miss him, and wish him all the luck with his new job!
PICTURES COMING SOON!