Backstage Winnipeg Interviews
INTERVIEW WITH LYNCHPIN

By Kristie Allen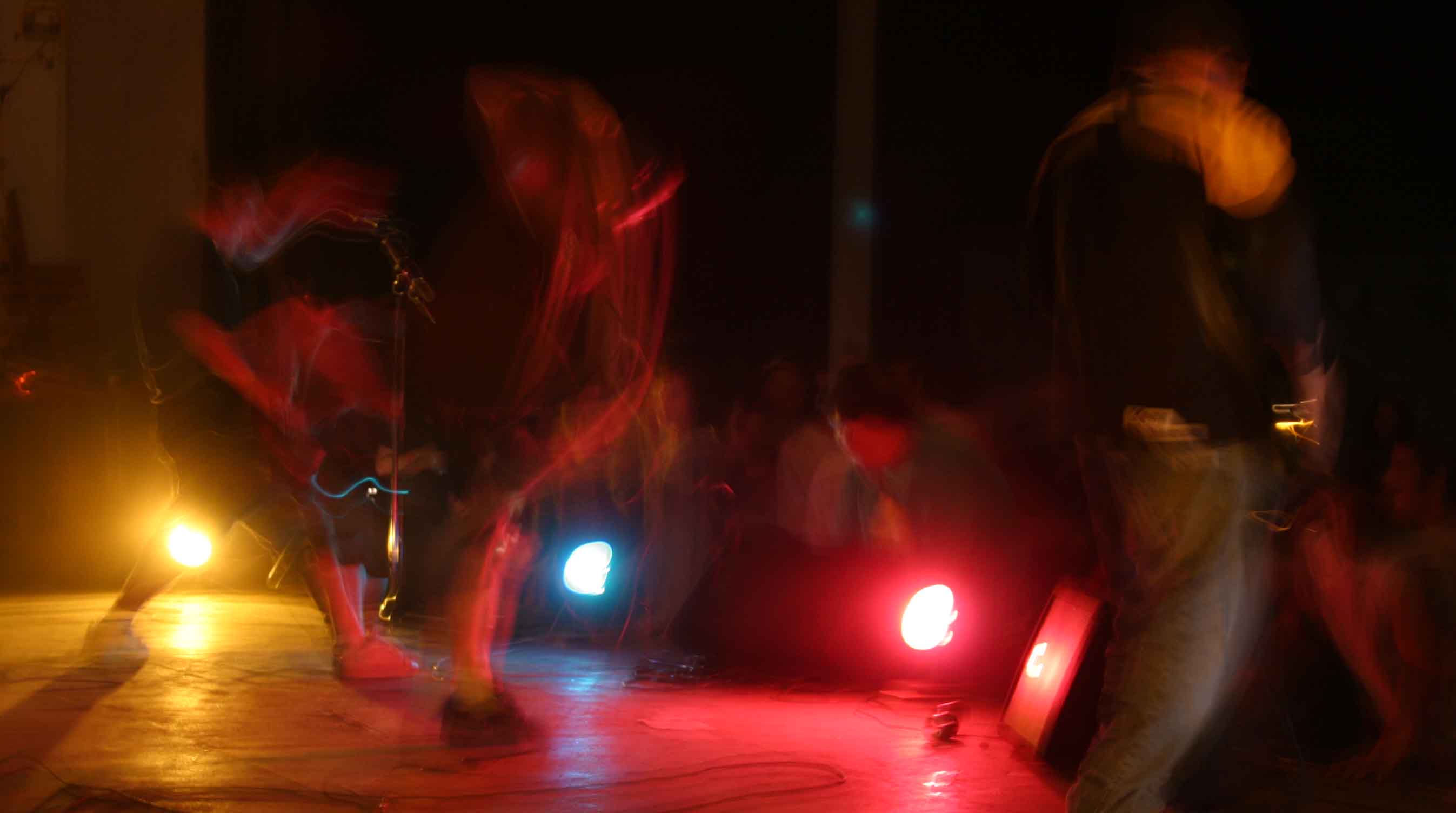 "Lynchpin was born in Portage la Prairie, Mb. in a small, hot room overlooking a quiet, unsuspecting street that would never again be quite the same. Brought together by the common passion for music, Peter and Stacy continued to write, perform and share their music with the world. Step-by-step and show-by-show, thru sweat and blood their vision grew." As quoted from their website.

BSW: Please introduce Lynchpin to us and how long you have been together as a band.


Peter: I'm Peter Bracken - vox, guitar is Stacy Willsey, bass is Travis Mattice, and now Ben Norris-Silman on drums. Stacy, Travis and I have been playing together for about 4 years -- nothing extremely concrete or serious until about 2 1/2 years ago however. We decided as a whole that it was time to make a really good push at this, and see what we were capable of if we all gave 100%.


BSW: How would you describe your music to us if one had never heard it before? And what do you write about?


Peter: Intense, passionate, melodic, heavy, and explosive. We really concentrate on the highs and lows of song structure. With a delivery that can take you on roller coaster ride of feeling, expression and thought.


Ben: There's a lot of good dimension to the music. Lots of different things happening at the same time and contrasting with one another. Very melody driven.


Peter: As far as lyrical content goes; I write the lyrics myself, with helpful input from the guys on occasion. Basically saying as a whole to use your mind to it's fullest extent, think your way through situations, and have the ability to recognize faults and how to correct them. I'm not sure what exactly to say - but I could seriously go on about this one. All in all, any positive outcome or take on the lyrics is really all that I/We are looking for. If only one person changes their thinking process for the better, even if only for a brief while, then that's great - everyone's a winner. I'm just really tired of all the negative energy in lyrics that alot of the bands, bands everywhere, are giving off.


BSW: What song do each of you feel is your best, and why?


Peter: Well - there's no definitive answer to this one.................it can change from day to day, jam to jam, show to show. All of our songs have similar attributes, as all bands songs do, some kick a little more ass than others do live on a given night -- but that's the way it goes. Sometimes I'll choose 'Disposition,' because it may have had enormous energy at the last show; or maybe 'Intrinsic', because of its diversity; or maybe 'Focused to Miss', because of the new beats Ben has thrown down.


Ben: The newer songs we've been working on that aren't on the disc have really been growing on me too. Hopefully we'll be able to get some recordings of them out there soon for anyone interested in hearing them. They've been taking a very heavy direction as of late and have been going over really well live.


BSW: Tell us a bit about your cd, "New Ground". Do you think it differs from the previous 2 releases? And if so, how?


Peter: Oh yes, it's quite different from our previous releases. We've been writing songs for some time now, and our abilities have only gotten better with time. So the older discs aren't comparible in terms of edge and structure. 'New Ground' has a lot to offer. We like to think it covers a wide spectrum concerning style, poise and intricacies.


BSW: You recently welcomed a new drummer to the fold, Ben Silman. How is that going?


Peter: Amazing. Easily top ten drummers in the city - very easily. He's added such an incredible new vibe to the band, in the process giving us the well needed kick in ass to produce that much more. Our new tunes that we've written together with him can definitely vouch for that. We look forward to creating our next disc with him in 2006.


BSW: On your website it states "Subtle… Like a Brick through a plate glass window". Can you elaborate on that for us?


Peter: I believe that metaphorically it does a pretty good job on it's own, further elaboration may confuse everyone -- especially me.


Ben: What are we talkign about? Hahaha


BSW: Name 3 things that you would like to accomplish with this band.


Peter: - would love to play for thousands of people at one show.

- Canadian distribution on any level would be spectacular.

- on a smaller scale, involving some hilarity too i suppose

(and sad truth), we'd like to receive more than gas money at some point for doing shows.


Ben: I'd love to do a small tour then maybe progress into doing bigger tours eventually. Obviously starting with small treks around Canada. Id also like to make a new disc-worth of material then throw it down on a recording. But yeah, basically just keep playing live and making music.


BSW: Where can one learn more about you and grab a c.d.?


Peter: Well, there's always our website for news and suchwww.lynchpinband.ca The discs are always available at our shows, and very soon in selected stores across our great city. For updated info on that issue - check our website or forum!


Ben: They can also come and talk to us at a show, only Travis bites....when he's drunk.


BSW: Okay...thanks again for the interview!


Peter: It was great to be had -- see ya at the show!


Ben: Thank you!

---
INTERVIEW WITH SUBSISTANCE

By Kristie Allen

"SUBSISTANCE is a down to earth, social concerned, and life-influenced band where each of the members has a different musical taste. The songs are abstract observations of life created in total democracy. Each member of the band is able to speak his mind, never to limit his creativity. With this working ability, songs are crafted to be powerful, uplifting and unique. The band was originally formed in May of 2005 after the disbandment of their previous formation: Coalition. Matheo, Phil and Scott were left unsatisfied with their musical ambitions and decided to pick up the broken pieces and start over once again. The name, SUBSISTANCE, was inspired by seven years of activity in the local Montreal scene." As quoted from the website.

BSW: Please introduce Subsistance to us.

SUBSISTANCE: Well briefly, Subsistance is a three-piece band, Matheo; lead vocals/bass Phil; Guitars/back-up vocals and Scott; drums/percussions. We've known each other since early high school. We also learned how to play music together; we started by playing covers but quickly moved to originals. We've been playing shows together for 7 years now. Through out all these years we stood by D.I.Y. ethics and still proudly do so.

BSW: You came together in May of 2005, but all have been playing for quite some time. Tell us how this band differs from bands you have been in, in the past.

SUBSISTANCE: the way we look at it is that all these years have been a learning experience. A lot of shit appended over the years, good or bad and you learn no matter what. This band is more mature musically, lyrically and mentally.

BSW: How would you describe your music to us if one had never heard it before?

SUBSISTANCE: We listen to allot of old school music, punk, oi, ska, metal, blues, jazz etc Therefore our style is old school with little touch. You know, good music will always stay good music, no matter how old it is. When a new style comes along the music is fresh and ambitious, we're just try to bring back the fundamentals of what old school music use to be.

BSW: Since you have not been together all that long as a band, where have you played, and where would you say your favorite venue is to play and why.

SUBSISTANCE: In Montreal there was this place called L'X where all the local show used to take place. Unfortunately it closed down and venues where hard to find for a while. New places opened but Montreal lost its core, No venue has replaced L'X and that sucks big time because the scene now is scattered. We played almost every place there is to play in Montreal, good places are; La Shop and Café l'Inconditionnel (for underage shows), Foufounes Électriques, Café Chaos and Saphir.

BSW: It states on your website that you are "down to earth, social concerned, and life-influenced band". Can you elaborate a bit more on this?

SUBSISTANCE: We're inspired by everything that surrounds us. We try not to talk about general views, we like to be specific and talk about what is going on in our lives. For example, we're concerned about Bush and his war on the planet, who isn't, but we talk about it as Montrealers. There's a lot to raise our voices about here, leave the American political and social concerns to anti-flag or leftover crack they're doing alright. To us music isn't just an art form or way to let go of our frustrations, it's a weapon much more powerful then politics that units people to open they're minds and have fun.

BSW: What do you think "Subsistance" brings to the table that is different or more exciting than other bands?

SUBSISTANCE: Intensity is the word. It's all about the music; it's fast, powerful and in your face. The lyrics are abstract, some more then others, but it gives us an edge I think.

BSW: I see that you have already made resolutions for the New Year. What would they be? Any new songs for us in the New Year?

SUBSISTANCE: We're currently planning a Canadian tour, U.S. tour and trying to get some dates in Europe but not to sure yet. We're already thinking to go back in studio in fall of 2006 for our first album. So yeah I guess we have a lot to think about. Hahaha.

BSW: Will you be heading to Winnipeg any time soon?

SUBSISTANCE: We're planning a little something; we've heard some good stuff from the scene in Winnipeg. Check our website for more details.

BSW: Any gigs lined up for January? If so, when and where?

SUBSISTANCE: Not for the moment but I'm sure some will come up. We're currently shopping for a decent van. We spotted this mini school bus, it would be awesome.

BSW: Where can one learn more about you and grab a c.d.?

SUBSISTANCE: If some are interested, www.Myspace.com/subsistance or if some are really interested contact us at Subsistanceband@hotmail.com and leave your address, we will ship you a free demo. We have a Website underway as well.

BSW: Well thanks for the interview and don't forget to keep in touch!

SUBSISTANCE: Thank you it's been a pleasure, we'll keep in touch for sure.

---
INTERVIEW WITH PENETRATOR

By Cindy Massey
"Penetrator performs a style of Heavy Metal music rarely seen in the Toronto, Canada area: Power Metal. The amalgamation of the band's impressive membership featuring "Bulldog" Bess (guitars), Maxel Black (vocals), David T. Green (bass) and newest member Ogie Dawg (drums) formed in 2004. They have toured extensively, including the USA, and have been featured at many of Toronto's best Metal clubs! In 2004 their sound would be recorded on their debut, Unleash The Fury, which received outstanding reviews throughout the metal world. Penetrator signed with Greece's Sonic Age Records. Their limited edition digi-pack CD release entitled Penetrator will be available worldwide on May 30, 2005." As quoted from their website.

BSW: So guys when will you be heading out our way?
Maxel: We plan to tour after the new CD is finished and released the tour details are not confirmed as yet. A Canadian tour is planning for May, 2006. We will be playing a showcase at Canadian Music Week in Toronto on Saturday, March 4, 2006
BSW: Power Metal is always awesome, what are your audiences like? i.e. is there mosh pit?
Maxel: From the beginning our music has been categorized by many in the media as a power metal band. While some were calling us a heavy hard rock band, the facts were clear and unanimous on a few aspects about Penetrator. The band kicks ass and we are a force out there that is about as heavy as it can get. Our audience has been diverse from age groups of new metal fans to the seasoned old school. Some fans mosh like crazy and others watch the trio melee of Angry, Ross and Black. Open mouthed they stare while being pummeled with powerhouse song after song.
BSW: What is the most insane thing that has happened to you guys in your many travels?
Maxel: While on a USA tour we had a scheduled live record store appearance as part of a paid promotion. When we arrived at the store location and it turned out to be a family home with a door front store greeting and a living room for a stage. All the neighborhood and city area kids came by to watch an evening of live bands in the suburban house. During the set our drummer Simon shot gunned a beer to cheers while a donation tin was held up for the band's benefit. The crowd added coins and dollars into the can as it was passed around. It was an awesome show as the crowd roared like a hundred in attendance. In this household the kids were the hierarchy of the home, ran the family business and masterminded the underground band scene. A family storyline along the lines of Lord of the Flies meets the Osbournes.
BSW: How do you feel the music scene is where you live?
Maxel: The scene is good here but overall Toronto's media moguls tend to ignore the existence of Heavy Metal and it's thriving scene and Canadian talent. We hope this will change with the emergence of metal into Canadian Music Week. Out of touch with today spirit of musical thunder they continue to blackout Heavy Metal's existence in Toronto while great shows are going down any given night of the week. Metal in Toronto's publications, radio and television could be represented as the three monkeys of silence. "Hear no evil, See no evil, Speak no evil".
BSW: What would you say to an up and comer about starting their own project, like what advice would you give them?
Maxel: Play with the best musicians possible and jam with the best musical instruments and gear that you can afford. Record your best material as many songs as you can to a CD. Press it in jewel box with a bar code like the real deal. When recording the songs first lay down the vocals tracks then add the guitar solos to expand the song possibilities. Play as many shows as you can at first and sell your CD's before and after each performance. After some tune up shows play a higher profile gig. Invite and guest list industry people to the event and prepare to blow everyone away. Educate yourself on the music business whenever possible, stick to your gut feeling and fight for what's right for the band.
BSW: Who are your musical influences and why?
Maxel: Black Sabbath, Metallica, Iron Maiden, Judas Priest, Dokken, Queensryche, Scorpions, Deep Purple, Rob Zombie, Ted Nugent, Montrose, Hagar, Van Halen , Michael Shanker, Ozzy , Black Label Society, Whitesnake, Slayer, Dio, Alice in Chains, Soundgarden, Motley Crew, Testament, Anthrax, Pantera, AC/DC. Do we really need to explain why?
BSW: At what ages did you all start being musicians?
Maxel: We received our first guitars from our fathers at the age thirteen, from that moment on we were hooked.
BSW: Do you have day jobs or are you putting all of your time into this project? If you have a day job what type of work do you do?
Maxel: Our band occupies our time constantly.
BSW: If you could change anything about your project right now, what would you change?
Maxel: I'd add a keyboard player as a member or ideally a guitar keyboard player .Other than that I'd change nothing else.
BSW: If you could change something in life, like world peace, what would you like to change?
Maxel: I'd clean the sky and earth of all of the toxins that kill and poison our sick and dying planet. I'd make the perpetrators pay with the suffering and sickness that they inflicted on the animals and people. I'd force the disbandment of the world trade organization and the World Bank. The destruction of factory farms and GM Frankenfoods. An end to the nuclear power propaganda insanity. End the reliance on fossil fuels build hybrid cars and use solar and windmill technologies. Stop the production of handguns forever and make all hand guns disappear off the face of the earth
BSW: Thanks for the interview guys, please feel free to add anything else you can think of for our readers here.


Thanks for the support we love you all hope to be out your way soon
Penetrator
www.penetratorpower.com
www.myspace.com/penetrator
---
INTERVIEW WITH HOME PHARMACY

By Kristie Allen

"Home Pharmacy is a drum machine based two piece band from Rochester N.Y. Since the band was created in February of 2000 they have been through a series of changes; plus a drummer, minus a drummer, plus a keyboardist then minus a keyboardist. Thus to arrive at the current and most solid form of Mike (guitar and vocals) and Paul (bass and vocals). Home Pharmacy's EP The Fascinating Life of a Businessman is due to be released in spring 2005. The Fascinating Life of a Businessman is the product of several years of weekend recording sessions." As quoted from their website.

BSW: First off introduce Home Pharmacy to us.
Paul: I'm Paul, I play bass.

Mike: And My name is Mike, I play Guitar.
BSW: You've had a few member changes i.e. drummer, no drummer, keyboard player, no keyboard player. This must have been pretty discouraging for you. How do you think everything is working now with just the two of you?
M: I've found that our songwriting has improved greatly now that it's just Paul and I, we're able to concentrate on it a lot more.

P: We can take the time to get it right. Right down to the fine details.
BSW: How have you found people's reactions at a live performance to you when they find out that you don't have a drummer, and use a drum machine?
P: People just stare and wonder what's going on when they see us bringing Eugene on
M: Eugene is our computer.

P: And for the most part, people want to hear what we sound like, so far we haven't gotten any "Boos"

M: Yeah, I think most people are interested to see what we're gonna do, what we'll sound like without the drums.
BSW: What can one expect to see at one of your shows?
P: Energy, a lot of energy, we give our all when we're up there, we don't just stand around. And a pretty decent light show.

M: Yeah, we built a huge computer that we put behind us like a stage prop. It has lights on it that are all sequenced with the songs.
BSW: You are from Rochester, NY. How is the music scene there? Supportive? Competitive?
P: [To Mike} I don't know, is it competitive? It's supportive.

M: Yeah, it is pretty supportive.
BSW: What do you think is the most difficult for musicians today? And do you have any "horror stories" to share with us?
P: It's hard to get enough people to hear your music.

M: Yeah that's harder than anything else, harder than the time and dedication it takes to make the music, and harder than the money it takes to make the CD. it's finding a way to let people know about your music.
BSW: Do you have any advice for a band just starting out?
P: Myspace

M: Yeah

P: It's one of the easiest ways to get your band out there, it's still not a guarantee.

M: Definitely somewhere to start.
BSW: Tell us a bit about your c.d. "The Fascinating Life of a Businessman". When and where you recorded it?
M: We recorded it with Calvin May in Rochester New York. It was originally gonna be a full length, but time and money forced us into doing an EP, which I think worked out better anyway. The EP allowed us to do a lot of cool stuff with the art on the CD. The CD is basically a best of: of the changes our music has taken from where we started until now. Calvin did a really good job with the production.

P: I am very proud of the CD, probably the best thing I have ever done personally, I have never done anything worth talking about before this.
BSW: Have you done any travel to promote your cd? And do you have any plans on doing so in the future? Most importantly, any stops to Canada?
M: The guys from Psyopus have taken us out on the road with them a few times for the weekend, and we love playing shows.

P; We've gone to Connecticut, Pennsylvania

M: Been up to New England

P: All over New York, New Hampshire , and we will play a show anywhere, our slogan is "We'll play in your basement" We haven't been to Canada yet, but we'd love to play a show there, hopefully we will soon.

M: Yeah, we'd like to play Canada, tell us when and where, and we'll be there.

BSW: Where can one find out more about your band? And where can we purchase a cd?
M: Our website is www.homepharmacymusic.com You can get our CD there.

P: T shirts

M: Yeah. You can also get our CD at CDBaby, and anywhere that they distribute to, I think Tower records online is a place that they distribute to. We always post our tour dates on the website.

P: Right now we are scheduling dates for a March tour

BSW: Well thank you for the interview and please tell us if you are planning a trip to "the Great White North"!
P: Thank you.

M: Thanks for the support and interest.


---
INTERVIEW WITH CUNT PUNISHER

By Kristie Allen
BSW: Introduce yourselves to us and where you are from.
CP: My name is Ben Silman, I play drums for Cunt Punisher, and at the moment I'm doing this interview by myself. Also featured in the band is Daniel Stewart on guitar, as well as Jeff Lewis on guitar, and Jeff Konowalchuk Providing vocals (using the term vocals loosely haha). We're all from southern Winnipeg.
BSW: OK….Seriously…what's up with the name? Don't ya think that "Pussy" Punisher or "Box" Punisher…..or "little fuzzy spot between women's legs that all men want Punisher"...would have been a little less…vulgar? (This is for all the people out there who are somewhat offended by the name. I, myself am not...because I happen to own one)
CP: Hahahahaha those are some good spins on it. Well this may surprise some of you who haven't met us yet, but the name is a joke. We were basically sitting on a few intense grind songs that we so dearly wanted to play live as a band, so we hooked ourselves up with a 20 minute slot at a show, but figured if we were gonna go balls out with this crazy music (utterly punishing music if you will), then we'd have to have a name that suited it. Daniel proposed the idea of naming ourselves the most offensive thing we could. And you can obviously see how it turned out. We don't take it seriously or anything like that, you know, we're not down with violence against women or anything like that ridiculous shit, we're just trying to make ourselves laugh. And unfortunately for the easily offended, we have sick sense of humors.
BSW: I have seen your band name all over Winnipeg. Do you think that the name has helped, or discouraged bars to book you?
CP: Well we've never had a problem with a local bar show. The promoters around town are really cool. Whether or not it discourages people from coming out to the shows may be a different story. One incident came about, where a band asked us to play a show in Portage La Prairie, we confirmed and got all set to go, then got word from them that members of the other bands didn't want us to play because they felt uncomfortable with our name. I mean we understand that, it's obviously not for everyone. But hey, hopefully we're making the people willing to take a joke happy.
BSW: Ok, next question…..do you hate women? And have you been laid a lot since you took on the name, or the opposite?
CP: We definitely do not hate women, and do not condone any sort of violence towards them. I guess we should have seen it coming that people might perceive it that way, but we suggest you come out to a show before passing judgment on where we're coming from. haha and to be honest, the name hasn't really sped up or slown down the sex life. Our relationship with grindcore & our relationship with women are two different things. But let me tell you, there are occasions at shows when there's a lot of explaining to do......
BSW: Do you get a lot of S & M chicks at your shows? And how do you punish them? With your music?
CP: Funny you should mention that! At our last show at the Albert, a girl drenched in fake blood (believe it or not, the blood was from the first band) began stripping in the crowd, until the grinding gripped her so tight she stumbled onstage for a full-on bloody strip fiesta. And yes, as far as administering punishment, we let the music do the dirty work so we don't have to.
BSW: Okay….sorry….but I had to ask those questions…..enquiring minds really want to know! Let's get on with the interview. First off how did you all meet? And how long have you been together as this band?
CP: Well Daniel was pretty much the first guitarist I ever jammed with after getting a drum kit. So we've always kinda been on the same page musically, and we're all from the same crowd. Best of friends we all are. Same goes with Jeff Lewis (guitar), I met him in high school through Daniel and have been close friends with him since. So naturally as the jamming progressed, between time spent with our other bands, Daniel & I would jam with Jeff and things took off from there. Of course I know Jeff Konowalchuk as the drum tech from Long N' Mcquade. Aside from screaming his filthy lungs out with us, he is also a professional drummer (he plays in Querkas & the Sublotinics, forgive me if I misspelled both of those). So I basically developed a friendship with Jeff through always being in the drum section at Long n Mcquade. I was aware he was into death metal & such too, which prompted me to mention the little grind project we were starting at the time, and I dropped the name on him, he loved it & requested to give singing a chance. So he came down, we had a beer, started grinding, he grabbed a mic....and that's all she wrote.
BSW: How would you describe your music to a new listener? I think it sounds like thrash, correct me if I'm wrong?
CP: If I had to seriously give some thought to our classification, I would say somewhere along the lines of technical death metal, in a grindcore format, with some crushing mosh parts. But when asked casually we just throw out either 'grindcore' or death metal. I may be chastised for saying this, but its all heavy music at the core.
BSW: "Bring your Cunts", what is this song all about? (I'm sorry, but I think I'm really liking the fact that I can get away with saying "cunt" so much.)
CP: That's ok, you should come down to our next show and scream it with the rest of the people! To be honest I don't think there is a meaning or concept to Bring Your Cunts. At one point in the song Jeff is repeating the title..."bring your cunts....to life" and that's the end. During the First verse (keep in mind, this verse starts like 8 seconds into the song) I provide some barely audible guttural growls, the lyrics I had in mind were "a cowboys laugh is as rare & delicious as a quail's egg", some quote from an improv show Daniel witnessed a little while before. In the insanity of the song, I actually only managed to growl "cowboys...delicious......." then faded off into non sensical mumbling.
BSW: What exactly do you write about? Any "deep" meanings you are trying to get across to your audience?
CP: Well our writing process is basically the guitarists & I coming up with the music, and a hilarious working title, that without a doubt we always keep. So the song names are just reflections of something ridiculous that has happened, or that we have observed in the little while before writing the piece of music. Then we bring it to Jeff, and he writes whatever the hell he wants. Sometimes he just uses his voice as a rhythmic instrument to flow along with the music (he's very good at that, being a drummer and all), sometimes he takes his own concepts. One notable concept worth mentioning is this song we wrote called "Raised By Bears." We brought this music & title to Jeff, and he wrote lyrics based on the scenario that Yogi Bear & Bobo were his parents teaching him the ropes of the national park. The lyrics are basically a warning from Yogi saying "don't go near the campers, don't touch they're picnic baskets, or they'll tranquilize you."
BSW: What can we expect to see at one of your shows?
CP: Lightning fast music, fierce energy, lots of rocking out, hilarious stage banter from that drum salesman who sings for us, and occasionally we sacrifice a stuffed animal we bought earlier that day at value village & have jimmy-rigged with fake blood and cooked ham.
BSW: Any plans on recording an album soon? I'm sorry, but I don't think you said you had any out yet.
CP: Well we just recorded an 8 song demo (9 minutes of fury!), and are just waiting to get it mastered. We have a rough mix of it that we're extremely pleased with. But we hope later on in 2006 to get a full length album & some touring out of our beer-clogged systems.
BSW: Any shows coming up in the New Year?


CP: Nothing confirmed yet at the time of this interview, I believe we would have just played the 'Blood, Beer & Gore" fest on New Years Eve. We're actually gonna put on and promote some shows ourselves in February, hopefully get some other great local Winnipeg bands we've played with on the bill such as "Suck My Vox", "Husk" or "Misanthropic Deity."
BSW: How can one find out more about your band?
CP: Well we don't have a website as of yet, hopefully early 2006 that'll come about, but for now we just have myspace, www.myspace.com\cuntpunisher. There's some unmastered mp3s up there, some pics and latest news.
BSW: Well thanks for the interview, and keep us posted on any news!
CP: Thank you for conducting it! Happy New Year everyone!


---
INTERVIEW WITH PSG
By Cindy Massey
P.S.G brings a well-needed breath of fresh air to the music community by setting themselves apart from the genres of today?s music and creating their own sound combined with Reggae, Funk, and Metal. With a plethora of influences ranging from: Soulfly to Bob Marley PSG has a truly unique sound that is sweeping across the Southeastern portion of the United States, and soon into the rest of the World of Music. As quoted from their site.

BSW: Tallahassee wow, what's it like there?
<JOE>The Music Scene Here in Tallahassee is very odd. Pretty much around here there are 15 or 20 really great bands and about 200 college rock bands that emulate whatever is popular on the radio. But there is a positive side to this. These bands only have a shelf life of 4 years or so (5 for some of the stupider students). The other oddity about Tallahassee is that Creed originated here so any band constantly has to deal with being lumped in with reed. Tallahassee is really a hit and miss town.
BSW: Were you all born there, if not where were you each born?
<Joe> I was born in a little town in Upstate New York called Corning. I lived there for 20 years. Then made the move to Binghamton...BIG CITY LIVIN! I've lived in Tallahassee for about 2 and a half years now and love it...NO SNOW!!
<Kevin> I was a military child born in Guatanamo Bay Cuba. I never really got to see the place we moved when I was two.
<Shannon> Lake Charles Louisiana born and raised for most of my life. I have been in Tallahassee for the past 5 years.
<Mike> Thomasville Georgia

BSW: Does your band come with a light show also, or any effects visually?

<Joe> We honestly try not to have any frills in our live performance. We are a "LIVE" band and if you're not entertained just watching us run around, head butt and tackle each other, Spit beer, and vomit, and throw things at the crowd were probably not the band for you.
<Shannon>We like to depend on our performance and the music to speak for itself. In the music industry today some much is about "The Show"...all the little things to cover up for the lack of originality and talents...we PSG are the show. The "show" is created by each individual band member expressing intense emotions which enables us to connect with the crowd.
BSW: I hear from your mp3's a vast variety of musical influences, in one song Pantera rings out. What can you tell us about your influences?
<Joe> One thing I am proud of as a Bass Player is that my influences range from one side of the Spectrum to the other. I've played in Funk, Punk, Jazz, Rock, Country, Hip-Hop, R&B, and Progressive rock bands. My biggest influence, has to be Cliff Burton (Original Bass player for Metallica, died Sep. 27, 1986), He brought the bass player out of the sidelines and really made them a huge part of the underbelly in Metal. But other than that...lets see Pantera, Killswitch Engage, The Cure, Minor Threat, The Grateful Dead, Pink Floyd, Bob Marley, Styx, Godflesh, The Black Dahlia Murder, Maceo Parker, George Clinton and P-Funk, Traffic, Sepultura, Tommy Tutone, Hank III, Johnny Cash, NIN, and on and on and on and on and......but who could forget Commander Cody and the Lost Planet Airmen.
BSW: Who has taken music lessons and how long have each of you been playing?
<Joe> I've been playing for just about 17 years now. I started Playing Classical when I was 7 years old, and took lessons on the Upright bass. When I was 13 I Heard Master of Puppets for the first time, got me an Electric Bass, and the rest is history. One thing I do believe is that you never stop learning or taking lessons. Every time I watch another bass player play I "get a lesson" because no 2 people approach music the same way.
<Shannon> I started air drumming at the age of 6.I received my first kit when I was 7.I grew up in marching band from 5th to 12th grade and learned a lot from building cadences. As far as playing a kit I am self taught.
<Kevin>I have been involved with music for the past 10 years. I actually play a lot of different instruments from Drums, Percussion, and guitar. I started singing about 4 years ago. I am basically self taught on everything.
<Mike> I've been playing for 10 years. I love my Dime Slime!
BSW: Describe your writing processes?
<Joe> Usually One of us will come up with a Riff Independently and then Shannon, Mike and Myself will "woodshed" it and work out all the changes and details. The we let Kevin listen to it, he starts his melody and makes any suggestions he has, in order to "personalize" the song.
BSW: What is the best thing about your shows, what do you really get off on?
<Kevin> Playing! No matter what is happening in our personal lives or even in the relationship with other band members, the moment we get on stage all hell breaks loose! It's the greatest feeling to be part of this huge well oiled machine, and just let go...of everything. The release is incredible.
<Mike>What I really love though is the Audience…when you have people right in your face, screaming your lyrics, really connecting with you...there isn't a better feeling in the world.
BSW: Wow you guys really keep busy any chance Canada will be on your tour one day?
<Joe> I would love it!! When I was based out of New York we got up to Canada pretty frequently and had some great times. I would love to get this band up there as soon as possible.
<Kevin> As long as there's no snow on the ground! Me, hate cold....
<Shannon> Do we have to go through customs???
<Mike> As long as you have Jagermeister and Strippers!!
BSW: What do you feel, is your band bringing to the world, what's your message?
<Joe> that's a good question and one that is tough to answer. By virtue of playing Metal, a lot of time it's very angry and focused, but then the Reggae and Funk is more feel good, and uplifting. What I feel we are bringing to the world is the message of it doesn't matter. No matter where you're from, who you are, what you look like, if you can connect with us, you are part of our family, part of our lives and vice-versa. You don't have to be anything other than what you want to be. Break molds, destroy Barriers, tear down walls...we are all flesh and blood, we are all human, we are all members of the PSG.
<Kevin> Joe says it perfect. We try to portray that it's ok being an individual and be normal at the same time. It allows the crowd to express anger and love and all types of emotions in the hour that we play.
<Shannon> Just to touch on what Joe and Kevin said above. The greatest thing is to have people come up to after a show and no matter how crappy there day was or what problems they are going through for that 45 or 60 minutes they forget about all if there troubles and have a great time and release some energy
BSW: Is there any other words that you would like to give our readers about your project?
<Joe> POOP!.........no........yes!! POOP!!!!!
<Kevin> Biscuits and Gravy!!!
<Mike> Quassy Lazers!!!
<Shannon> We would like to introduce you guys to the rocking chair!!!! Our debut cd drops on November 25th.You can check out www.myspace.com/psg to hear a few samples tracks. Or go to www.psgspot.com
BSW: Thank you for the interview, I look forward to seeing you someday. Put more pictures up on your myspace for us, Thanks.


---
Backstage Winnipeg Interviews
INTERVIEW WITH PAT ZELENKA
By Kristie Allen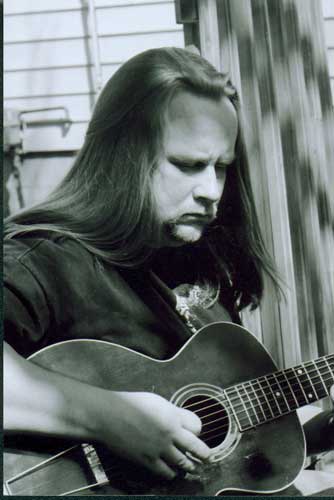 "Long story short: I first began playing music in my teens, and began really working on songwriting in my mid 20's. I would classify my style of playing as a "hodge podge" of influences that I like to channel. Everything has influenced me in one way or another I suppose, from classic rock to movie soundtracks, classical music to funk, jazz to country." as quoted from site.
BSW: First off, tell us who Pat Zelenka is and where you are from
PZ: "Solo artist. Guitarist, Singer, Songwriter from Lansing, Michigan. Published by Exi Anxiety Music which is my company and is registered via BMI"
BSW: Out of curiosity, what triggered your want or desire to play guitar, sing and write? Is there a moment in time you remember, a song on the radio you heard or a clip on t.v. that made you think "I have to be a musician"?
PZ: "Early on, as a small child, it was great 45's (as in records) like "I Feel The Earth Move", "Green Tambourine", "Wipe Out", and lots of Beatles and Hank Williams records too, but what really got me going was around 14, a friend brought over a well worn cassette tape (ink worn right off) of AC/DC's "Back In Black" album. He put it in, and the guitars, drums and vocals ripped right through me. I was so into it, that I finally heard one of my friends say, "Look at Pat!". I finally snapped out of my "trance" to realize that I was dripping with sweat." "It was the sheer power of that record, and the way that the instruments felt like they were right in the room. The mix was just incredible. Problem was, I didn't know what instrument I wanted to play first, so I spent a year or more just looking around. Started playing guitar at 16 like a religious convert. Chuck Berry, Led Zeppelin, Cream, lots of blues, Randy Rhoads……….many early influences"
BSW: You have many musical influences from Ritchie Blackmore to Bach, this obviously shows you have an appreciation for all types of music. What advice would you give to an individual who has just started their own band and limits themselves to one genre of music?
PZ: "I would tell them to not limit themselves. You can learn as much from Benny Goodman and Artie Shaw as you can from Tony Iommi or Jimmy Page. Guitar players listen to too many guitar players. You can learn a lot from great vocalists and horns too. You have to be aware of everything as much as you can, and with the internet, no one has any excuse not to hear as much music as they want. Satellite radio (XM and Sirius), net radio, and Ipods only add to the amazing mix of possibilities. I could not live without a broad spectrum of music. EVERYTHING you hear will come out in your music whether you mean it to or not. The radio in my head is always playing, and I want to add new songs to the play list." "I believe it's my duty as a musician to learn as much as possible, especially through listening to other types of music, because I believe music to be my craft, not a hobby. I love almost everything I am hearing on the net right now, and at home I listen to everything from classical music, to movie soundtracks, commercials, rock, metal, jazz, blues, country………….I have a 5 disc CD changer in my living room, and my favorite thing to do to confuse people I have over is to put the weirdest mix of music there, and hit "random". When they hear the player go from Black Sabbath to Hank Williams to The Ventures to James Brown to Dusty Springfield………..well, I get the biggest laugh out of their reactions."
BSW: Tell us a little about "LO FI HAPPINESS". What can people expect to hear when they listen to it?
PZ: "Just me "having fun seriously" at home, sometimes late at night, and feeling very inspired as I worked. No vocals on this one, all instrumental."
BSW: How do you think your current project differs from "Radio Soul"?
PZ: "Its very different from the "RADIOSOUL" project, and for a few reasons. "RADIOSIOUL" was a band project, but by the time of it's release (December 2004), it was a solo project all the way. Joel Butts (bass) and Steve Chapko (drums and vocals on tracks 1, 3, 8, and 10) didn't want to take it any further, and I had written and owned publishing on 99 and ¾ of the material, so I promoted it as a solo project. I am very proud of "RADIOSOUL", and it does very well on the net. "LO FI HAPPINESS" was just me being me without any outside interference or anything else. I was allowed to be as dedicated as I am without having to pull anyone else along, and I think that the relaxed nature and feel of the recordings show that. Being that it is also all instrumental sets it apart."
BSW: "LO FI HAPPINESS" is set to be released to the public in March 2006. You recorded the majority of this c.d. at home on a Tascam Portastudio and a Marantz 4 track. Do you feel that by doing this, you had more time to go over your tracks and "tweak" everything to your liking?
PZ: ""LO FI HAPPINESS" was a project I had in mind for quite awhile. I had always wanted to find an outlet for some of the "better" cassette recordings I had here at the house, and I always wanted to call it "LO FI HAPPINESS". In every band I have been in, as much as those bands recorded, I was always recording at home on the side. About a year or so ago, after RADIOSOUL fell apart, I started digging through old tapes, and recording new tunes, all the time having in mind a pressed CD that I would distribute. No wondering if someone knew the part, or if they would come up with their share of the pressing costs, yadda, yadda, yadda. Just total freedom. I even play drums on the last track. No pressure, and the mixing process at SACRED HILL RECORDING STUDIOS here in Lansing, Michigan was totally relaxed. Ran the Marantz right into the board. Keith McIntosh owns that place. Very professional environment. Their link is on my web page"
BSW: Will you be having a c.d. release party? And where can your fans check it out?
PZ: "I would love to, and I plan to, but I haven't decided where yet. I have hired a press agent to help publicize the release, and I am hoping that this helps the CD reach a wider audience."
BSW: Are you planning any travel to promote your new c.d.? If so, where and when?
PZ: "None yet, but I would love to play some shows in Canada and the U.K. I am looking right now for any booking agents interested in helping me book some venues. I am looking forward to "hitting the boards" again, especially for this project."
BSW: Where can we find out more about Pat Zelenka?
PZ: "Many places, but here are the best ones:
www.patzelenka.com

www.myspace.com/patrickzelenka

www.radiosoul.net


"Via my personal web page, www.patzelenka.com, you can read more about my many past projects, check out pics and reviews, and the "RADIOSOUL" project sells there for $5!! Check it out, and let me know what you think in my guestbook. Many cool links there too"
BSW: Well thanks for the interview Pat! Stay in touch an let us know if you ever make it to Canada!
PZ: "Hey, thanks for the chance to chat and share my music! It has been awesome talking with you Kristie! Keep indie alive!!!"
---
INTERVIEW WITH ARCTIC FLAME
By Kristie Allen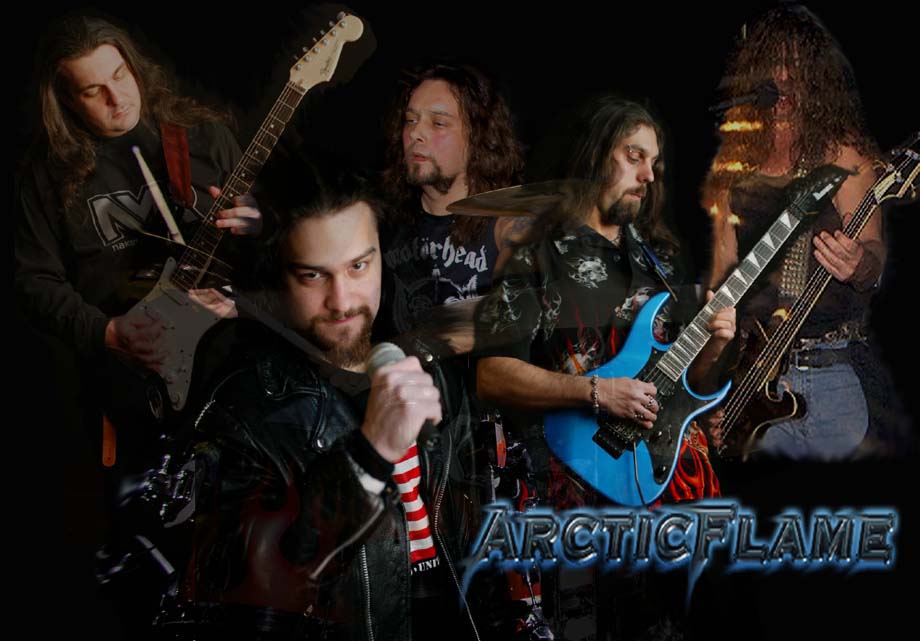 "Fire, the passion and belief in one's music and one's self. Ice, the ability to ignore all who criticize or think they know what's best and continue doing what you believe in. These are just two of the qualities found in heavy metal's newest member, ArcticFlame. In a world where everyone follows the flavor of the month, AF sticks to their guns and creates music they grew up on and continue to enjoy." as quoted from site.
BSW: Please tell us who Arctic Flame is and where you are all from?
Don...ArcticFlame is Dave Lowe on vocals from Staten Island, New York, Rod Mariani on guitar is originally from Brazil but now lives in Boundbrook, NJ, Don Dioro on guitar and Mike Paradine on drums live in Bayonne, NJ. We're currently looking for a steady bass player.
BSW: Any story behind the band name? (ie who came up with it etc.)
Don...No big story there. I thought the word "arctic" had some cool (no, pun intended) connotations. Mike added "flame," the idea being the mix of opposites - hot and cold, which also has connotations, like a light in the dark kind of thing. It seems to fit what we're doing.
Rod - It seemed to go with other metal bands like Led Zeppelin, Judas Priest, Iron Maiden, Black Sabbath. 2 opposite words that create something new.
BSW: Your first gig was opening up for Thin Lizzy. How did that go? I mean, that must have been pretty intimidating for a first gig!
Mike - Another of my influences. The show went over better then anticipated. We even got the thumbs up from Lizzy's camp.
BSW: I read that you opened up for quite a few famous bands. Any gigs that stick out in your head? (something crazy happened etc.)
Dave....Wow so many that come to mind, they have all been nothing short of amazing- here goes. Of course as mentioned before, Thin Lizzy was just an amazing way to put AF on the map of tri-state area metal. Having Motorhead on the list is just a dream band to be able to place on the roster and sound checking after Lemmy! And having Overkill invite members of the band to chill in their dressing room really got us into the spirit of the blowing the roof off that night.
Mike - Yeah, definitely meeting Lemmy was a big highlight for me. The Overkill, Helloween and Motorhead shows were intense. Great crowd reaction for us. Actually, that goes for every show so far.
Don - We have been lucky enough to open for some great bands like Motorhead, Overkill, Yngwie, WASP, etc. which were all great shows with big, excited crowds. But oddly one of our best gigs was the one where the headliner canceled. We were set to open for Saxon at a small club when word came about two days before the gig that they could not make it into the country because of visa problems. All of a sudden, we were the headliners! There wasn't a big crowd, naturally, and the few that showed up were disappointed and shocked to see that the band they came to see wasn't going to be there. But it gave us the rare chance to play a full set and the small crowd that was there, some who came all the way down from Canada, really seemed to appreciate the show and it made for a fun night after all.
BSW: Tell us abit about your 5 song EP. What can one expect to hear when they pop it into their cd player?
Don -The 5-song EP was really just meant as stop-gap until the full length CD got released. It was just something to offer concert-goers in the mean time. It contains songs that will be on the full-length. It's a very polished production. It's got "Steel Angels" which is just a straight-forward fast heavy rocker that we usually always play live. "The Leveller's Wish" is a moderate paced tune with a sort of Celtic meets power metal feel. "Misery's Mystery" is a little quirkier with a sort of classic Iron Maiden-like riff. "Kingdom of Illusion" is a quick paced mighty power metal tune and "Battle of Heaven and Hell" is more like a classic hard rock/early metal song at a moderate tempo.
BSW: You recently have agreed to a record deal with "Battle Cry Records" from Germany. How did that come to be? Did they find you? Did you find them? What work was involved to get them to notice you?
Mike - I sent packages all over. Then we received 2 offers at the same time, one from Battle Cry and one from Mausoleum. I notified Battle Cry about the counter offer and they were very honest and said we should go with someone a bit bigger then them. We were told by many other bands to watch out for Mausoleum and they were right. We made an agreement with them and then things went south after that. I went back to Battle Cry and asked if their offer was still on the table and they said it was. I found that their honesty was paramount to anything else and accepted their deal. Also Mike Sabatini from Attacker confirmed this as he is a friend of Andi, president of Battle Cry. We're very glad to be with them.
BSW: The President will be flying down in February to meet with you., that's pretty exciting! (Congrats!) Do you have any advice to give bands out there on how they can "land their deal ?
Don -The industry is so anemic these days it's hard to say what one can do to land a deal. It's a real crap shoot. The best thing to do is not depend on outsiders for anything. Practice a lot, play shows, try to build a fan base. Save your pennies to record a demo or an album if you can swing it. Then just cross your fingers and maybe someone will bite. If not you can always put it out yourself. It's really just a money matter. If you have enough money you can buy your way into distribution and promotion. Of course, most of us starving artists don't have that kind of coin so we have to go through this record label dance.
Mike- Never listen to anyone except yourself. At the end of the day, you the only one holding the bag. Also be persistent but open for discussion and negotiation. You'll find that you can go a little further on the business side of things if your not an asshole.
BSW: What are 3 things you all would like to accomplish with this band?
Mike - Bring a memorable show to the audience. I've already accomplished what I sent out to do for the first two things, record and release. Everything from here on in is icing of the cake.
Don -I think we would just like to develop the music. We have plenty of material in an embryonic stage to draw from so we'd like to try to birth as many of those as possible. And of course the usual things: record albums, play shows and try to reach the ears of metal heads the world over.
BSW: If I were a spectator in the audience at one of your shows, what would I see and hear?
Dave...You would see energy and fun onstage, as we enjoy the time as our moment of venting out aggression and letting out passion flow. The music you would hear would be melodic, with a traditional feel of power metal and classic flavor, while being very HEAVY and not limiting to categories. And most of all you would have your fists in the air with the rest of the head bangers as we love audience participation!
Don - True Metal - and no trendy bullshit. Tons of crushing riffs, plenty of searing lead guitar, REAL singing, and a solid heavy duty rhythm section. Denim, leather, beer and hellfire
BSW: When and where is your next show?
Rod - We are playing with Loudness on April 4th at the Starland Ballroom. We are playing with Gamma Ray at BB Kings Blues Club in Times Square, New York on Monday, May 1st.
BSW: Where can we find out more about you? (website etc.)
Dave...www.arcticflamemetal .com is the official home of the band on the web. It has pics, shows, info, and virtually anything you want to know about the band. We update it as soon as rumor becomes reality.
BSW: Thanks so much for the interview and PLEASE keep us posted! We would love to know how the record deal goes!
The band - Thanks and remember "Put more iron in your blood...listen to metal"
---
INTERVIEW WITH ALL THE BRIGHTNESS
By Kristie Allen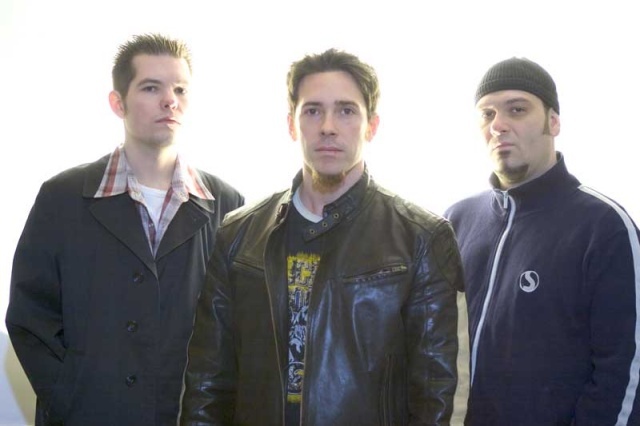 "As their name would suggest, this Toronto trio is destined to shine. Not only is their music uplifting, but it is powered with enough kilowatts to light up Las Vegas. If their sound is best described as a combination of modern rock and power pop, then the songs themselves are virtual checklists of the defining qualities of these genres: fresh, concise, energized, emotive... in a word, memorable. Comprised of Kevin Bailey (Bass Guitar), Nick Mazzei (Vocals, Guitar) and Pete Maniatis (Drums), ALL THE BRIGHTNESS present a package characterized by powerful rhythms and melodic vocals, catchy hooks and anthemic choruses." As quoted from site.

BSW: First off, who are "All The Brightness" and where are you from?
ALL THE BRIGHTNESS are:
Nick Mazzei - vocals + guitars
Kevin Bailey - the bass guitar
Pete Maniatis - the drums
Location: Toronto, ON
BSW: How long have you been together as a band and where did you all meet?
Kev:
Nick and myself have been playing together the longest. Our first band was straight out of high school. We met Pete shortly thereafter through a mutual friend, but at the time he was also involved in other projects. It wasn't until all our respective bands simultaneously fell apart that we had a chance to hook up. When you've been in this business for a while, you begin to realize that a lot of what makes for a good band can be chalked up to lucky timing and chance events.
The three of us have been playing together now for about 3 years, but ALL THE BRIGHTNESS is really only one year old. Prior to the current line-up we were part of another project called SPOKANE JUPITER, which involved another guitar player. We had some success with that band and released a 6-song EP, but the writing chemistry wasn't productive. Once the three of us took a step outside that environment, that's when we found the best music started coming out. So, that was essentially the birth of ALL THE BRIGHTNESS.
BSW: You recently released your cd "Lost In The Soul Deposit" Nov 18, 2005. How did that go?
Kev:
The release party went way beyond our expectations, both performance-wise and attendance-wise. By the time we started rehearsing our live show after finishing the album, we were still struggling with the idea of performing as a 3-piece, so there was an element of apprehension or uncertainty as to how the show would come off. We toyed with the idea of adding samples or even a hired gun to play rhythm guitar, but we chose to keep things simple and pared-down, as opposed to risking a threat to the chemistry. As it turned out, we packed Revival nightclub, which holds close to 500 people and we played probably one of the best sets any of us have ever played. We haven't looked back since.
BSW: Not only was this a cd release party but also a Fundraiser for Cardiac Kids.(Cardiac Program at the The Hospital for Sick Children) And with a purchase of a ticket it included a FREE cd! That is VERY generous of you! Who came up with this idea? Do you normally do "charity gigs"?
Kev:
Really, most of the credit should go to our management, who initially made us aware of the cause and really were responsible for pulling the event together behind the scenes. They are involved in fundraising through other ventures and the Cardiac Kids charity is one that both they and we had previously supported and had a great experience with. We decided collectively that if we put on an event that involved raising money for such a worthy cause AND allowed us to make our CD release more special than an ordinary club gig, we would have a winning ticket. Not only did it make for an unforgettable evening and an unmatchable launch party, but it has drawn more attention and funds to the cause, which can't help but make us feel great about our involvement.
BSW: How would you describe your latest release? What can one expect from it?
Kev:
We have a statement on our website right now which sort of explains our mental space during the writing and recording of this album, but basically it boils down to an emphasis on strong songs and timeless rock music. I personally believe that all musicians go through a period of self-indulgence early on in their careers which can hinder the song-writing process in a band situation. Thankfully, I think by the time we started this band, that was something we had all gotten out of our systems. That freedom really allowed us to focus more attention on the strength of the songs rather than how many guitar solos there were, or whether you could hear every single bass note, or whatever. That being said, we use two words to describe the music: Rock & Roll! haha.
BSW: I seem to ask this question from time to time, and I'm going to ask it again. What is the music scene like there? Supportive or competitive?
Kev:
It's hard to really assess the entire Toronto indie scene in a sweeping generalization, but I think on the whole it's becoming a more healthy environment than what it used to be. Obviously, the size of the city is directly proportional to the amount of bands striving to get discovered, but I think these days bands seem to be working together more than trying to compete with one another. Ironically, I think the advent of the internet, which allows bands to network with each other online, has really encouraged more of a sense of community on the streets. Speaking from experience though, it's easy to become preoccupied with making it in your hometown (especially when it's T.O.), when there are plenty of other more attainable goals out there. Honestly, we're less focussed on Toronto now than we are with investigating things abroad.
BSW: What is your ultimate dream or goal for "All The Brightness"?
Kev:
Primarily, we hope that people enjoy our music. There's nothing quite like reading a favouralbe review of an album you had a hand in creating, or getting email from a perfect stranger going on about how great your concert was. Those are rewards you simply can't put a price on. In terms of an ULTIMATE goal though, we would be quite happy to simply be making a living playing music together. Right now, we're a working-class band. This album was produced with all three band members juggling full time day-jobs, and although we are immensely proud of the result, I can't help but wonder how much better it could have been if we had more time to devote to it... without the distraction of a 9-5.
BSW: Any plans for a tour out our way in the future? If so, when?
Kev:
Our immediate goal at this time is a video which we plan to shoot sometime in February/March. In the meantime, we're focussing on one-off gigs and shopping the album. Our touring plans will depend on how well the video is received and where it makes sense for us to play. That being said, the future is an open book for ALL THE BRIGHTNESS. We're in this because we love to play music, so if there is a demand for us to play in your city, chances are we'll do everything we can to get there.
BSW: When and where can your fans catch your next show?
Kev:
Due to the video shoot, the only show we have booked for that time-period is Friday March 10, at The Salt Lounge in London, ON.
BSW: Tell us where we can find out more about you. (I.e. webpage)
Official wesite: www.ALLTHEBRIGHTNESS.net
MySpace.com: www.myspace.com/allthebrightness
BSW: Well thanks for the interview! Take care and let us know if you are heading to Winnipeg!
Kev:
Will do, Kristie, thanks to Backstage Winnipeg!
---
INTERVIEW WITH THE ANTI DOCTRINE
By Kristie Allen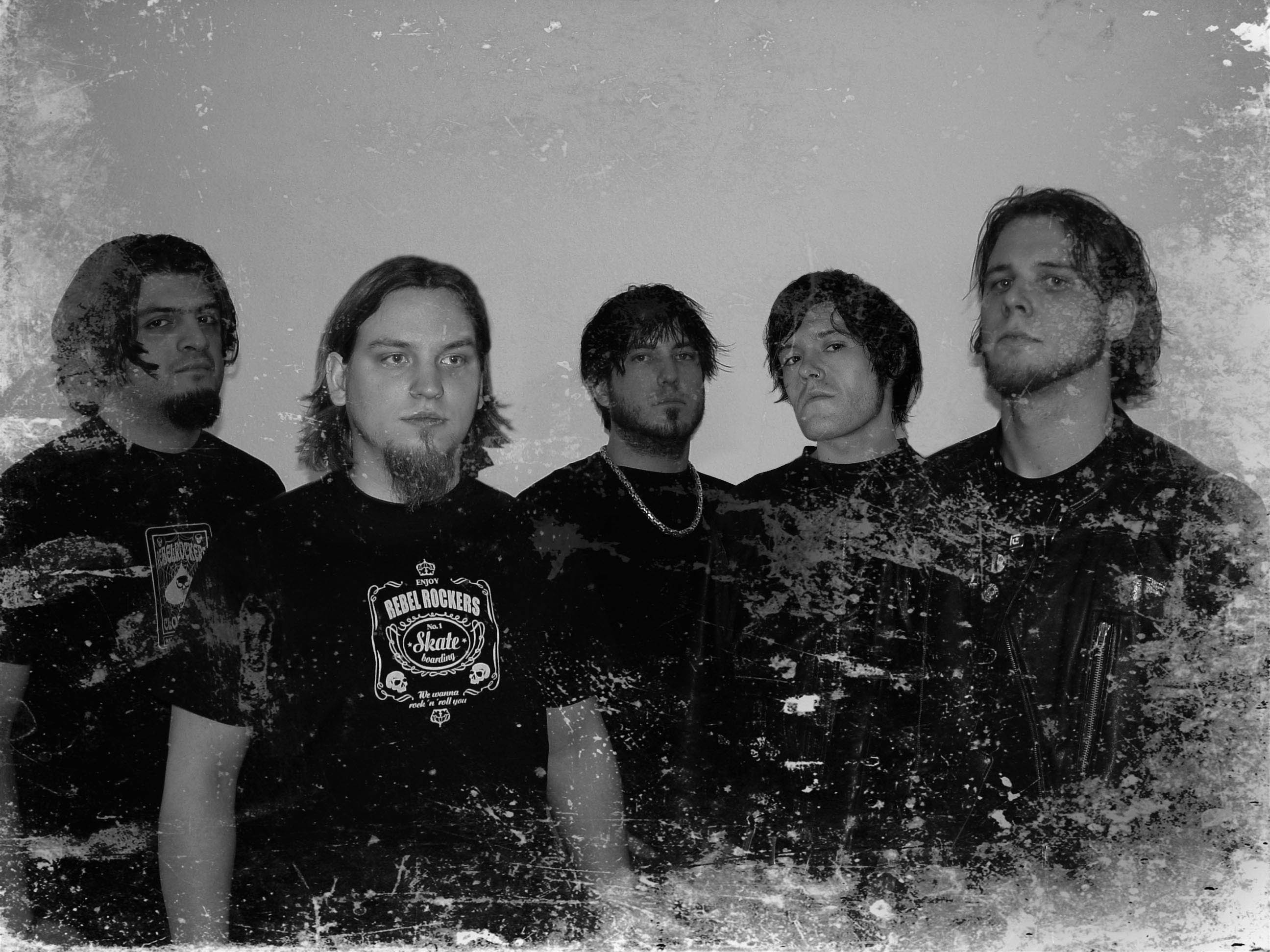 "With their first release, the EP "Patterns Of Liquid Red" (October 2004), THE ANTI DOCTRINE made one thing clear: this was the beginning of a totally independent mix of various metal styles and the not less diverse types of hardcore. Their progressive approach should be emphasized as of course it's not enough to just interweave different genres." As quoted from site.
BSW: Who is The Anti Doctrine and where are you all from?
A: We are Philip, Carsten, Markus and Adnan from Duesseldorf / Germany. We all live in Duesseldorf.
BSW: How do you feel that this band differs from other bands out there.
A: We think contents a high range of variousity within the metal genre. People won't get bore 'cause there is so much to discover in almost every song. We just don't want to reduce a record or even one single song to the rules of a certain genre. We want people to LISTEN not to CONSUME music.
BSW: You are currently under Roadrunner Records/Universal. Do you have any advise to give to other bands to help them get a major label interested in them?
A: You know what ? Sometimes I think there is no rule. Bands get signed who have not even played 20 shows and are not talented at all. At the same time there are bands who work on their music instantly, go on tours a lot and still don't find a label... The most important thing is: Keep on doing YOUR thing - you can make it on your own. THE ARCTIC MONKEYS from England got thousands of fans only by putting some MP3 online - the filled arenas without having released ANYTHING.
BSW: You have played quite a few shows. Are there any memorable gigs that stand out in your mind? (i.e. something crazy happened, someone broke a leg…etc.)
A: Well, fortunately nothing bad has happened so far. The shows we played with giants such as SLIPKNOT, SOULFLY, THE DILLINGER ESCAPE PLAN or BIOHAZARD are of course shows we'll never forget - but there have been shows we played for 25 people that we will never forget. As a good live-band it's important to explode on stage - no matter if there are 5 or 5.000 people watching you !
BSW: What is more important to you, playing live shows, or recording as many c.d.'s as you can?
A: You can't really do the one thing without the other - I for one prefer to play live. Philip, our mastermind, likes recording sessions and the process of a new record more than playing live. It depends, I guess. In our genre a band won't be adopted if their liveshows are not good - so maybe that is more important in this case.
BSW: Tell us abit about your latest release "A Worldwide Elite And It's Downfall". What can one expect to hear when they pop it into their c.d. player?
A: Expect some painful heavy music which proves that Metal has a wide range of variousity. There is always room for melodies but the brutality of the songs will hit you first. No one will be able to talk about the album after listening to it once. This is something you have to work with - but it's content is worth it.
BSW: I read that you have parted ways with your bass player, Basty. Have you found a replacement? If so, please tell us about your new member. If not, how is the search coming along?
A: We haven't found a new member, yet. But we have a guy who will do the upcoming shows with us. So it's not a real problem so far.
BSW: How has this member change affected the band?
A: Well, it was obvious that Basty won't be in the band some day. That's why we haven't been shocked or something. Actually nothing has changed really. We always use to stay cool and not panic. Of course a good friend will be missing but he is still our friend and we will be hanging around with him - he also will play a show with us if we are in need of a bassplayer as long as we haven't found someone who fits to us.
BSW: Any tours planned? And most importantly (to us), will you be playing Canada anytime soon?
A: Well, we are proud to be invited to play the TERRORFEST in Toronto this summer. We are planning to do a 14 days tour during that time. So - you should be prepared for TAD coming over your country :-)
BSW: Any shows lined up for February? If so, when and where?
A: We will play some shows in the Netherlands - then stop playing shows for 5-6 weeks to write some songs and record some tracks as demo-versions.
BSW: Where can we find out more about The Anti Doctrine? And where can we purchase merch?
A: You should check our official website: www.TheAntiDoctrine.com ! We also have an Online Shop there - we had some problems with it though in the past... But everything's up there.
BSW: Well thanks so much for the interview! And good luck with your future endeavours!
A: We'd like to thank YOU for doing this interview and to all the ones who are reading this. Please check our band out - you won't regret it :-)
---
Interview with The Sheckies
By Kristie Allen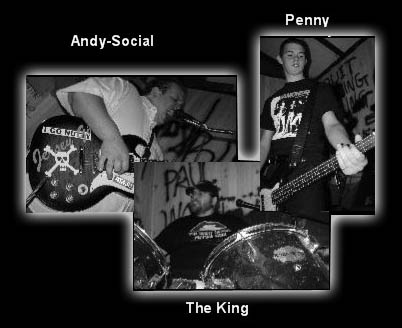 BSW: Who are "The Sheckies" and where are you all from?


TS: I'm Andy Social, lead singer and guitar player. The King slaps skins and sings backgrounds. Penny plays bass and sings backgrounds as well. We're from the southern most tip of the carjacking capital of the world, New Jersey. In a little town called Cape May.


BSW: Ummm….what is a "Sheckie"?


TS: A "Sheckie" is really nothing more than a name I took from a line in an old horror comedy movie, "It Came From Hollywood". I picked it because I thought it simply was a catchy, snappy, stupid name. I suppose you could use those 3 words to describe us. Although there's probably bands out there catchier than us, we're definitely more stupid!


BSW: You state that "The Sheckies were formed with no talent and absolutely no respect for each other"…..this statement cracks me up! With such a cool attitude, do you find you have more fun playing, opposed to a band that takes themselves too seriously?


TS: Absolutely. Life's too short to have a big head.


BSW: How do you feel that this band differs from other bands out there?


TS: Let's see...2 minute songs, chainsaw sounding guitars, bass, background vocals...Doesn't sound too different huh? But I guess we pride ourselves in being an honest band. I mean, my voice doesn't sound like cookie monster like every other band out there...Though I ain't gonna lie and say it sounds beautiful either. But I guess that's what sets us apart. We want ugly, we want to fuck up on stage at a show. I guess it's our attitude, have fun and fuck everyone that makes a mountain out of a molehill.


BSW: I read that you played your first show which involved hoagie sandwiches and smarties candies. Please elaborate, and who came up with this idea? Do you use deli meat in all your shows?


TS: Ah, the hoagie, a Philly area sandwich delight comprised of a long roll, provolone cheese, cappicola, salami, ham, tomatoes, lettuce, onions, oil & oregano (makes my mouth water thinking about it). And Smarties, little colorful tart candies. They were my choice of foods to throw at the audience who were stuck up hardcore kids that we lied too in order to get our 1st gig. We lied about our genre of music to get booked (We sent them a hardcore band's demo and went under their name as well). So my idea was to lighten them up. You know, throw a hunk of ham at a person's forehead and watch it stick. Funny stuff, no? Well they didn't think so, and they even made me sweep the mess up after the show. So in conclusion, fearing of being a janitor at every show, I never did it again.


BSW: Are there any memorable gigs that stand out in your mind? (Besides your first, of course.)


TS: A show at our local American Legion Hall was pretty memorable just for the simple fact the audience took over and sung all the lyrics. They literally took over and stole my mike, it was awesome. A go go bar called the Hurricane in Wildwood, NJ had me and King doing shots off girls boobs (I did a water shot 'coz I don't drink). It was also cool playing live on the radio at WFMU in Jersey City. It was an honor to play on a radio station where Wimpy and Joe Queer from The Queers played at.


BSW: Tell us abit about your release "Shit Outta Luck". What can one expect to hear?


TS: "Shit Outta Luck" is a 4 song EP. Each song was taken from our 1st full length, self titled album, so you're getting a mini album essentially. Both are available to buy on our website, www.thesheckies.com . I believe when people hear "Shit Outta Luck" they'll want more 'coz it's over quick, but sing-songy, none the less. I think the quality of this D.I.Y. release is excellent. The guitars are hell raising, the bass is pretty booming, the drums are snappy and simple, and the vocals really sound nice. You can barely tell they were recorded in a living room, and I think people will agree.


BSW: How do you feel that this release may differ from your first EP "Low Budget"?


TS: It's simply louder, faster, and the recording quality is better.


BSW: Any tours planned? And most importantly (to us), will you be playing Canada anytime soon?


TS: Well we're in a pickle at the moment 'coz we need to buy a new set of wheels, but I think by the Summer we'll be touring. Check our website for any news about it. I would love to play Canada, hopefully things will work out.


BSW: Any shows lined up for February? If so, when and where?


TS: We'll be playing a show around the end of February at the American Legion Hall with either the Low Budgets (ex-members of The Dead Milkmen) or Sloppy Seconds (one of my biggest influences). Again, check our website for news, dates, and time.


BSW: Where can we find out more about The Sheckies? And where can we purchase merch?


TS: Either on the official site at www.thesheckies.com or at our My Space page www.myspace.com/thesheckies . You can buy our full length debut CD on Interpunk and you can buy that along with EP's, Shirts, Stickers, Buttons directly thru us. Check the sites for more info.


BSW: Well thanks so much for the interview! And good luck with your future endeavors!


TS: Thank you! And thanks for the support!


---