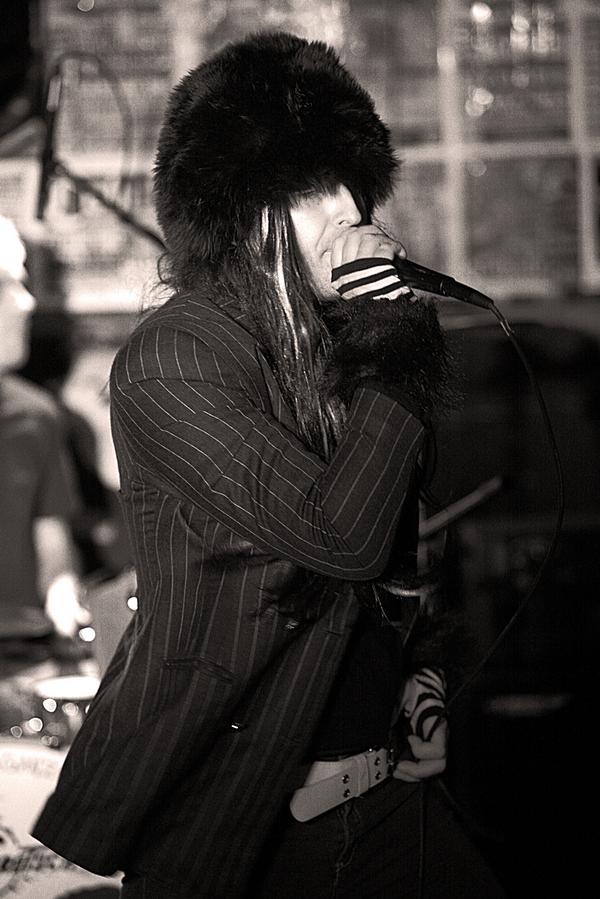 Sugar Coated Killers
By Lara
Vancouver's very own Sugar Coated Killers are doing a Canadian tour. And they plan on hitting our beautiful city not just once but TWICE! The bands front man Sevli Android was gracious enough to answer a few questions for me while he's traveling this great country of ours.

BSW: When and how did you become interested in music?

Sevli Android: Kiss made me the most interested in music from a very young age. I have been heavily influenced by 70's / 80's glam rock bands such as New York dolls, The Sweet, David Bowie, Alice Cooper, etc ... Plus early 80's new wave acts such as Gary Numan, Missing persons, Dead or alive, Devo, Blondie, etc ...

BSW: What are your musical influences?

Sevli Android: My personal music influences are: David Bowie, Alice Cooper, Iron Maiden, Black Sabbath, YES, Queen, you can hear a little bit of that magic sauce and more in most of my songs.

BSW: Does anyone else in your family play music?

Sevli Android: Just my brother, and cousin Lutzi who was born and lives in Budapest Hungary, he's a singer who loves Queen and Frank Zappa!!!

BSW: Where do you see the band 5 years from now?

Sevli Android: On the cover of the Rolling Stone (Every few months. Even if we have to share it with another few acts). Touring Europe and America constantly. In support of the 6 albums worth of material I have written.

BSW: What else do you do besides play music?

Sevli Android: I like to collect a lot of things. 60's / 70's / 80's TV / Movie memorabilia, mostly rare memorabilia from those years, TV show / movie wax packs, posters, 8 x 10 photos , jigsaw puzzles , metal lunchboxes, books, etc ... These are all items that have creatively influenced my songwriting . Neat ideas dealing the future and pop culture.

BSW: Why did you decide to write Creator?

Sevli Android: Creator is a powerful song that I wrote with my former band, Uncle Monstor's Space Circus. It's about the world's robotic destiny, hope and strength.

BSW: What is that song about?

Sevli Android: It's about having the strength to carry on as everyone and everything on this planet is trying to rip you apart. Freedom fighting, good against evil.

BSW: What does it take to play a song like that?

Sevli Android: It takes talent to write that song and unity within the band to strengthen it.

BSW: What makes this type of music "good" to you?

Sevli Android: The changes are unpredictable in many of the songs I write. It makes the songs interesting, but still suitable for anyone to listen to who likes generic rock. The lyrics are, strong, somewhat controversial at times, but always positive in meaning.

BSW: Why did you choose this music genre?

Sevli Android: I've been influenced by many fantastic bands who have moved me musically and visually the more great bands from the past I hear who are different in some way influence me more to write more and entertain to the fullest on stage .

BSW: How did you come up with your band name?

Sevli Android: I think of the band name a sneak attack. We usually come out on stage looking dolled up, quite feminine glam. People's first reaction is what is this???!!! But after we finish our first song there are usually loud cheers or a crowd silenced as they don't know when to greatly love us or hate us ( because of the image, course ! )

BSW: What inspires you to do what you do?

Sevli Android: Passion, pure passion, if you truly believe in the product you're presenting, it will happen on a large scale. No matter what obstacles come in your way (and there has been many!!!) The only way it won't is if you quit in trying to establish your dreams.

BSW: What's new in the recording of your music?

Sevli Android: Sugar Coated Killers will release a new full length album titled, Blood, Sweat and Robotic Tears. This will be released some time in 2008.

BSW: How do you describe your music to people?

Sevli Android: Its glam / theatrical in image, it's progressive, rock I guess.

BSW: If there was one thing you could change about yourself, what would it be?

Sevli Android: Having more money ... Not because of greed, but it would be much more easier to live and help others achieve their dreams too.

BSW: When did you first know you wanted to be a musician?

Sevli Android: When I looked at an album cover of Kiss (Destroyer) that is such a great album. I liked The look of The Sweet also, I first saw them in a rock n roll quiz/ puzzle magazine and they looked super cool dressed up in make- and costume.

BSW: What is it you love most about your fans?

Sevli Android: I love when people tell you WHY they like the band? Explaining what they remind us of, telling us how much it means to them to see us and hear us in their lives. When it gives them inspiration to do positive things. Be themselves (hence the make- up, be individual without caring what people think of you). There are so many positive things I've seen happen from this band, many more than negative, it puts smiles on people faces!!!

BSW: BSW: What do you want your fans to get most from your music?

Sevli Android: Creativity, positivity, excitement, that life really isn't really so sad or boring!!!

BSW: When can your fans expect the next CD out?

Sevli Android: I'm hoping in August - September 2008

BSW: Is there a place to purchase your CD and other merchandise?

Sevli Android: At shows mainly, it will be available on line. We'll see about some stores too.

BSW: I hear you're headed to Winnipeg to play, could you tell me about that.

Sevli Android: We will be playing at The Zoo with The Gorgon, Radio Ethiopia, and Dead at the Switch on May 10th

BSW: Is this your first trip to Winnipeg?

Sevli Android: It will be our very first trip to Winnipeg. We will also be playing in Winnipeg on Canada Day weekend on June28th.

BSW: Well there you have it… 2 Winnipeg dates. Make sure you head to the Zoo both nights; it'll be a show you won't want to miss. I want to thank Sevli Android for taking time out of his tour to answer all my questions. I look forward to hearing & seeing them play.