Hey there,


The Hearsemen are finally finishing their full length debut album and on Friday, August 22 we're throwing a bash at The Zoo (Osborne Village Motor Inn, 160 Osborne) in order to raise cash and get the tunes out to you.


As a small token of appreciation for your help in making a killer show and a killer album, all advance tickets ($7) sold to this event come with a coupon for $5 off the disk, redeemable when it is released in the fall. Get tickets at the front desk at the Osborne Village Motor Inn (Ph: 452-9824; Ad:160 Osborne St.;) or through Reed (793-0050) or Paul (803-0720, PondScumRecords@gmail.com).


The lineup goes as follows:

IGOR AND THE SKINDIGGERs (10pm)

THE DOWNFALL (11pm)

ASADO (12pm)

THE HEARSEMEN (1PM)


Brought to you by POND SCUM RECORDS


Please pass this message on to anyone you think might be interested by it or might be able to help spread the word. Thanks!


Links for you to check out:

Event Page (facebook):


The Hearsemen Myspace Page - Come check out some previously recorded Hearsemen tunes


'The Hearsemen' Page (facebook)


'I love/hate The Hearsemen' Group (facebook)




Thank you all for your unbending worship." -Yentle


--

Pond Scum Records

(204) 803-0720

PondScumRecords@gmail.com



---
Hello everyone,


I'm proud to announce that I just finished up the tracks for my "Mellow Hello" EP, which includes some of my acoustic and piano works. The songs are very personal and influenced by some of my favorite songwriters including the Bee Gees, Hall and Oates, Aaron Neville and even a little Burton Cummings there too. Originally I set aside these tracks for publishing (film/tv/etc) but feedback at the last few shows (thank you!) was so positive that I decided to share them with everyone.


You can listen to three select tracks - "Feeding in Eden ", "When I Needed You" and my latest acoustic ballad "The Postage Stamp" – at my CBC Webspace here…


http://radio3.cbc.ca/bands/Deon-Wysocki


Enjoy the music and thanks again for your continued support (especially those of you who make it out to nearly every show!) Keep checking my website or MySpace for upcoming show information and I hope to see you out.


Deon Wysocki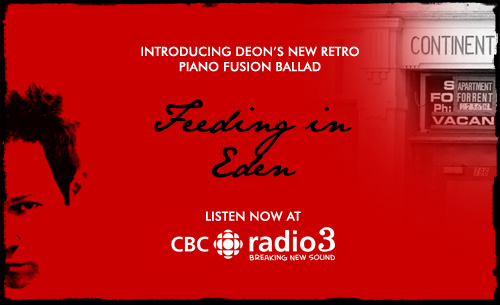 ---
TWELVE34 News
It has become easier and easier to give up on rock music, because of an industry plagued with manufactured artists, manufactured hits. The bland corporate machine has been churning out hits from the same mold for so many years. We are in dire need of a salvation - and twelve34 is here to do just that. If you are a true believer in the power of music, then let it save you - and enjoy this free MP3 courtesy of us! We promise it will re-ignite that long lost spark you once had. But don't take our word for it... here's what the music folks are saying:

"Twelve34's The Only Cure has found a long lost remedy for the dead eared modern music fan. From the first blast of cymbals and raw guitar, the hammer, anvil, and stirrup buffet the ear drum to awaken a once thought misplaced treasure, true rock and roll. Vocals, musicianship and talent are all showcased in this well produced and balanced CD. It's a journey that you simply accept and enjoy. Dead ear syndrome? I now know what the only cure is." -Toronto Exclusive Magazine

"A band out of Ottawa has been churning out some catchy, crunchy, melodic rock for the past few years and has just released a new album. Twelve34 have their feet firmly planted in straight-ahead, arena-tinged rock. The Only Cure is the band's first full-length effort, a tightly-packed collection of rock with a serious melodic flair." -Blog Critic Magazine
---