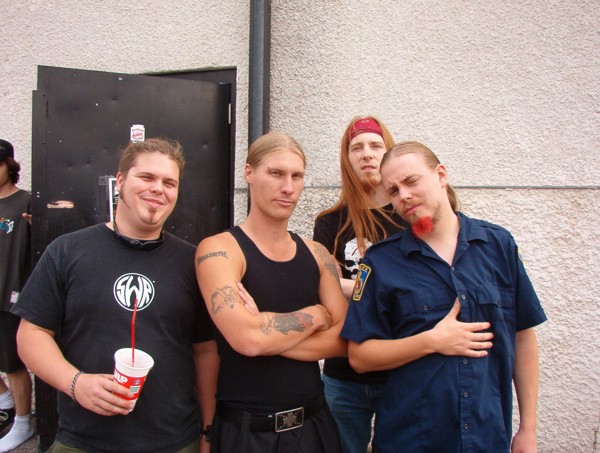 Interview with Pornocracy
by Kristie
BSW: It's been quite sometime since we've spoken with the boys from Pornocracy. How are you all doing?


Jon: Right now we're doing awesome, a lot of positive things are going on inside the band and it's really cool to see. We are firing on all cylinders for the first time. It's pretty cool to be in this atmosphere.


BSW: You have a new kickass website! Good job! Does somebody in the band do all your web stuff?


Jon: Haha, thanks for that, the website was built and maintained by our new guitarist Rich Townsend, a lot of hours were invested into making it and it features all the artwork off the new album more or less save for a couple drawings.


BSW: I also noticed that you have had some member changes. How did that transition go? (Are things "meshing" well?)


Jon: The new guys we brought into the band had to be on the same page and not in every other direction. When the current lineup was formed, we all wanted the same thing sound wise and were on the same page. I will say that this is the best that Pornocracy has ever sounded and it sounds more like what I hoped it would back when I formed it with Trapper.

Kyle Ellefson from 500 Pound Furnace was cool enough to lend us his talents for the recording and a few shows until we found that bass player we were looking for which happened to be just 2 months ago when we found Rob Mahle who fit perfectly. Rich is an amazing guitar player who just blows us all away when we watch him do a lead and Rob Wilton is a hard hitting tight drummer. The first show with this lineup was just on April 4th and the overall reviews on us has been really good, it was a great night, with some great bands.


BSW: Do you have any exciting shows lined up for the summer?


Jon: Right now we are booking our "Invasions" shows to support "Terms For Destruction". So far we are playing the Morden Meltdown on June.28th. There are some shows that are almost finalized, best bet is to keep checking our myspace and website for Invasion updates.


BSW: I see that you are about to release a new c.d. "Terms For Destruction" Where did you record? And were you guys sober this time? Ha ha! Sorry, I read your blog on your MySpace page about the "6 Days" reissue.


Jon: Hahaha define sobriety hahaha, Terms For Destruction was recorded by me and our drummer Rob Wilton in 2 locations. My place in Winnipeg and Rob's in Portage La Prairie. Rob had a great room for drums and I had a great room for vocals, guitars and bass. In terms of our sobriety, we were a lot more sober this time around as well as having some really good musicians who wanted to keep focus and record. Most artists like to have a beer or six when they record and we were no different, we just didn't get ourselves trashed all the time throughout the recording, and if we did me and Rob were smart enough to say o.k. we're done for tonight, let's come back to it tomorrow.


BSW: Are there any tour plans in the works to support your new release?


Jon: Definitely! Like I said before we are setting up the " Invasions " tour in support of Terms For Destruction, our plans are to hit major cities, but not forget smaller ones the size of Brandon or even smaller. Places like that don't get enough music coming through and that's a shame. The kids in most of those places go absolutely nuts for metal in my experiences, so we're gonna bring it to them.


BSW: How do you think this recording may differ from your previous? Any similarities? And what can your fans expect?


Jon: This recording will differ in many ways from 6 Days Of Darkness. In all honesty this was going to be my last album ever so I wanted to write something that was more from me and less generic. Those plans changed however largely in part to the new lineup and my sons. I mean when you listen to it you're going to know it's Pornocracy but I think TFD and 6 Days are not even close to similar. It's a different mood and you can really hear that on the recordings, plus a lot more time was taken recording it. We basically had the time to fix everything that needed fixing. Anybody picking this album up can expect a really good thrash album, it's got it's melodic songs and it's outright fast ones too... the kind you play if you only have 2 minutes to listen to a song haha and I held nothing back when I wrote it.


BSW: When and where can your fans check out your c.d. release party?


Jon: The CD release party is still being hummed and hawed over. We want to do it at the Zoo simply because we love that place, and I would say it's a safe bet it's gonna be there but at the moment all we have is a release date. July26th, 2008... that's another one to watch our myspace and website for www.pornocracy.ca and www.myspace.com/pornocracy. The album however will be available at CD plus as well as though us and on our site as soon as stores open.

Thank you Kristie and again welcome back!

BSW: Thanks so much for the interview guys! Hope to catch your show July 26th!