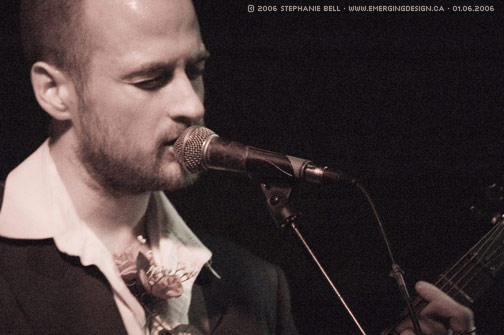 Interview with WAX MANNEQUIN

By Lara

Wax Mannequin was born in the smoke and industry of Hamilton, Ontario; a damaged, underdog town; a perfect breeding ground for strange, variant things. Incorporating folk, scrappy prog-metal and a tireless creative ethic, Wax infused his local influences with road-broken experience to forge something new. Band-backed, or solo (accompanied by heavy devices and an angry electric guitar) Wax Mannequin has been touring incessantly within Canada (and Australia) over the past five years. Oblivious to the trend and trap of the big cities and the cultural propaganda machines, Wax Mannequin now finds himself a forerunner in a strange new movement: roaming recluses and attention-seekers -- solo-performers, equipped with laptops, assorted instruments and decaying minivans, making new sounds, informed by hard travel and rough living. Wax's thought-provoking live performances and acclaimed recordings have garnered the fervent support of the creative underclass in his home country as well as a burgeoning international reputation.


BSW - When and how did you become interested in music?


WM - My dad always played jazz piano when I was growing up. I took some 

piano lessons. We had a guitar around the house and I started playing 

it when I was about 13. I learned how to play guitar by writing songs. 

I wrote a bunch of songs throughout my teens and early twenties. When 

I had lots of songs, I started playing regularly in bars. I did some 

musical theatre along the way. I have a soft spot for that cheesy crap.


BSW - What are your musical influences?


WM - Gordon Lightfoot, Ween, Frank Zappa, Bruce Springsteen etc...


BSW - Does anyone else in your family play music?


WM -My Dad, as I mentioned. I always knew that my Mom could play, but she 

never did. Then one day she picked up an accordion and started playing 

an elaborate version of "When the Saints Come Marching In". That was 

neat.


BSW - Where do you see the band 5 years from now?


WM - Still touring hard and pushing my boundaries... spending more time in 

Europe. I'd like to get back to Australia too. I'll be exploded!


BSW - What else do you do besides play music?


WM - I read books and the news. I supply teach for the Hamilton School 

Board. It's a pretty cool job for me. I get to be a performer at that 

job, and I can take time off when I need.


BSW - Why did you choose this music genre?


WM - I had little choice in the matter. It's not even really a genre.


BSW - How did you come up with your band name?


WM - I was reading Descartes while watching "Today's Special" -- an old 

children's show about a mannequin that came to life when you put a 

special hat on his head.


BSW - What inspires you to do what you do?


WM -I do.


BSW - What's new in the recording of your music?


WM - The songs are all new.


BSW - How do you describe your music to people?


WM - When pressed, I describe my music as being art rock. I find that using 

fewer words is better. There's no point in describing music. It's 

supposed to be listened to, so using fewer words makes the explaining 

process less painful.


BSW - When did you first know you wanted to be a musician?


WM - I wrote a song that I liked when I was 15. Then I decided that I 

wanted to keep writing songs.


BSW - What is it you love most about your fans?


WM -I like when people give me things. Tasty things and pretty things. I 

like when my fans look good. That's pretty important.


BSW - What do you want your fans to get most from your music?


WM - Dizziness and mostly nice feelings. I want my music to make them look 

better and feel liberated on the inside.


BSW- When can your fans expect the next CD out?


WM - My new record will be out in about six months.


BSW - Is there a place to purchase your CD and other merchandise?


WM - You can get my cds at stores and over the internet. You can get other 

merchandise at my shows.


BSW - And most importantly... Could you tell me about your tour plans?


WM - I'm touring home from the west now. When I get home I will take most 

of September off to finish my new record. I'll be doing shows around 

Ontario for a few months and then going to Europe during the Christmas 

holidays for some shows. Then I'll start thinking about releasing the 

new record. Nice fun.

BSW - Remember "Without music…life is silent" and as my buddy DJ maninmirror from Livehardrock.com always says "keep your horns up".

http://www.waxmannequin.com
http://www.myspace.com/waxmannequin