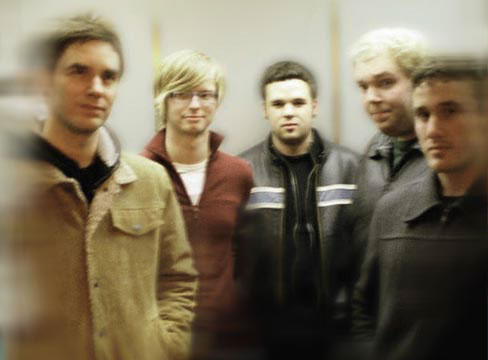 A PLACE TOMORROW
We change as we grow. And, hopefully, we grow as we change.


Winnipeg-based A Place Tomorrow knows a thing or two about change.


Growing out of the demise of a former garage band, Mat and Steve, with new vocalist Murray and their friend Chris on bass, A Place Tomorrow took their name from an off-hand remark heard at a youth conference. Though stylistically unfocused, their music was intense and passionate, created with an almost instinctive knowledge of what was going on in each others heads.


The band suffered a setback when Chris went away to college, but continued writing as a 3-piece and playing shows with a number of different friends helping to fill out the low-end. Their sound continued to grow and evolve during this time, becoming more focused as they discovered their identities, yet a permanent fourth member proved elusive. They didnt want just anyone, the fit had to be perfect.


That perfect fit seemed to come in the summer of 2004, when a mutual friend introduced them to Brita, formerly of Militant, who had recently moved back to Winnipeg. The connection was easy and natural, and the band was excited to move on to the next phase of their career. Unfortunately, life doesnt stop simply because one is in a band, and by the end of fall 2004, Brita made the tough decision to step away from the music scene to concentrate on other things. The band was sad to see her go, but released her with their blessing.


In December of 2004 Brent McCrae (Wounds Run Deep, Baileys Car), who had recorded the bands Milk Carton Photograph single, agreed to fill in on bass for a few shows. Brent fit in perfectly, and after a couple of months of awesome shows, officially joined A Place Tomorrow as bassist in February of 2005, and they released their Disconsolate EP demo not long after. Their sound had begun to coalesce, but something was still missing.


That missing piece fell into place that summer, when Mike Loewen, formerly of Lives of Many, became available. The band had been toying with the idea of a second guitarist for quite some time, and this opportunity was too good to pass up. After a few jams showed that both the musical and personal connections were there, A Place Tomorrow officially became a 5-piece in August of 2005, with Brent moving over to second guitar and Mike stepping into the role of bassist.


The band is now hard at work, writing new music and reworking older material for the new lineup as they prepare to record their first full-length album.

http://www.aplacetomorrow.com