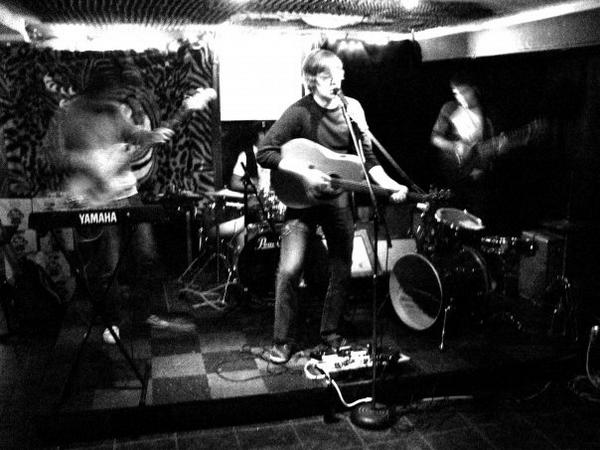 BASS LIONS
Bass Lions ain't yella; we ain't never scared. Bass Lions ain't scared to make big beats and acoustic guitars into bed-fellows. Bass Lions ain't scared of chiming guitars, mope-y bass lines, found-sounds-from-all-around, and warm synthesizers. Bass Lions ain't scared to sing! sing! sing! in harmony, in brassy choirs, or all alone in indie-rock-baritone and cracked falsetto. Bass Lions ain't yella: Bass Lions are gold!
Bass Lions have nestled into the cities of southern Ontario, Canada—Guelph, Hamilton, Brampton, and Toronto. They are a family quartet—three cousins and one 'brutha'—who are making music for the first time as Lions, though this is hardly the first time they've made music together. Bass Lions are veterans of the blossoming independent music and art scenes currently flourishing in The Greater Toronto Area, even as they are the good sons of the rural communities crouching just outside.
Bass Lions make the music their fathers never made in the cities they never made it to.
And with the release of their inaugural EP 'More Than Islands', Bass Lions have made the scene! Their clanging, chorusing, brisk and soulful debut was produced, recorded, and mixed with their friends and former band-mates Nick Bernal and Lisa Horvath [Reily] at Last Ounce in Brampton; it was mastered by a gracious and enthused Joao Carvalho at Joao Carvalho Mastering in Toronto, and released by indie up-and-comers Nevado Records.
The EP, coupled with an imaginative and honest live show, has ushered the young band into hip joints—Tiger Bar [Toronto], eBar [Guelph], Casbah [Hamilton]—and legendary venues including Toronto's El Mocambo. Bass Lions have kept time with local-darlings Oh No Forest Fires [Most Serene Republic, Five Blank Pages], and Fox Jaws; they've hung their hats with national acts Ladyhawk, and Immaculate Machine.
But Bass Lions, Bass Lions, Bass Lions, Bass Lions—we can only tell you so much. Listen to the music: Bass Lions can speak for themselves.
Instrumentation
Nathan Stretch: Guitars, bass, vocals
Charlie Murray: Bass, keys
Anthony James: Drums
James Vander Zaag: Guitars, drums
with:
Lisa Horvath: Vocals, glockenspiel
Discography
"More Than Islands" EP--Release date: December 2007
Links

http://www.myspace.com/basslions