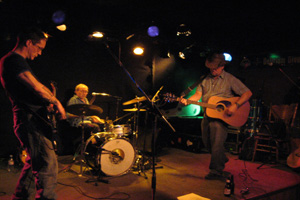 AFTER ALL THESE YEARS
After All These Years is an all original traditional country band from Winnipeg, Manitoba, Canada.
The band was formed in 2002 by Todd Lesage and Brother Darrell Lesage. After writing several original songs, the band added the third staple member, guitar player Byron Beernaerts. They have been known to play with as little as three members or as many as six players, mixing it up at all times to keep the show lively and spontaneous.
After All These Years are known for their simple laid back, old school traditional country music style. Their music derives from many different influences such as Merle Haggard, Johnny Cash, Willie Nelson, Bill Monroe, Lester Flatt and Earl Scrubs to name a few. Being constantly compared with the likes of Neil Young and Lynard Skynard, After All These Years are becoming more and more known for their deep lyrical content and story-telling attraction.
To date, the band had released four albums. The third album titled "Gravel roads", won the band many great media reviews across Canada. This was the c.d. that made people take notice of After All These Years completely original style. Several of the songs from this c.d. recieved radio airplay from various A.M. and F.M. stations in Canada as well.

website