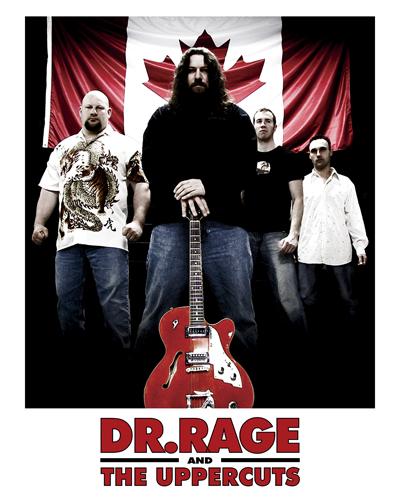 DR.RAGE AND THE UPPERCUTS
Dr. Rage & The Uppercuts are a hard hitting, riff based Blues/ Rock band with a feel that pays homage to the spirit of the late 60's and early 70's blended with an in-your-face, high intensity sound. They combine raw energy and attack with a soulful, bluesy delivery that will bring any party to a fever pitch. This four piece group is comprised of three veterans of the Canadian music scene and a young rhythm guitar player whom they've been grooming for the stage. The band was formed after an impromptu studio jam proved too tantalizing to ignore. Based on this recording, Dr. Rage was offered opening gigs for Bo Diddley and the mainstage at Manitoba Summerfest 2005, before ever having played a live show.

Dr. Rage and The Uppercuts recently completed a western Canadian tour that included dates in BC, Alberta and Manitoba. The group recieved a very enthusiastic response everywhere they played. One rabid fan even purchased five autographed cd's for his entire family.

With a combined 40 years experience and a no-nonsense approach to their music, Dr. Rage & The Uppercuts are Hittin' Wood and Diamond Hard!! Career Highlights:

Opening for blues legend Bo Diddley during his fairwell tour (July 12, 2005)

Performing on the main stage at Manitoba Summerfest 2005 (July 30, 2005)

Signing with Absurd Machine Records (2004)

Playing several shows across Western Canada (2005)

Debut album available now on ABSURD MACHINE RECORDS

"Just bought your new CD...Excellent product! Inspiration runs from start to finish, hard blues, slow blues, absolutely superb good rockin' blues that I will listen to many many times, GREAT!"

- André Thomas

Vezelay,Burgundy,France

Contact Information

Absurd Machine Records | 1905 Main Street | Winnipeg, MB | R2V 2B1(204) 338-4496

contact@absurdmachine.com | absurdmachine.com | drrage.com

website