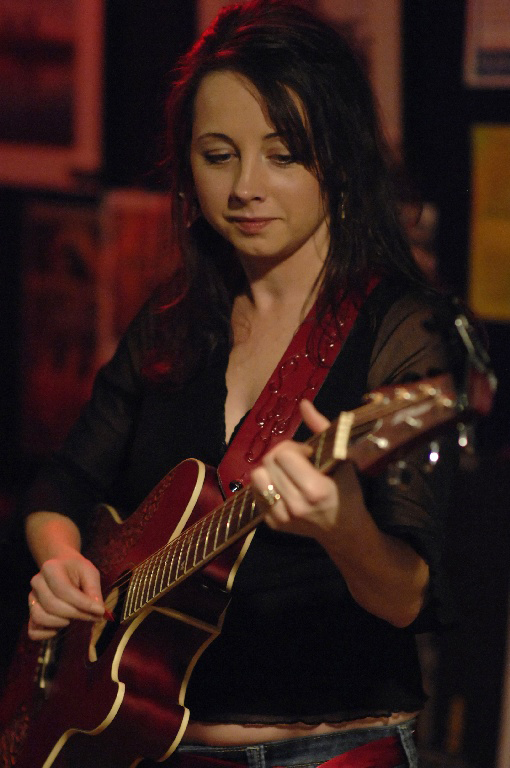 KIM REIMER
Singer-songwriter Kim Reimer taught herself to play guitar at the age of 21 and has not looked back. While music has always been a part of her life, Kim's decision to buy a used guitar set her on the road that would eventually lead to the release of her debut album, Let's Get Away. Influenced by artists such as Fleetwood Mac, Jewel, the Dixie Chicks, and Sheryl Crow, Kim's passion for strong lyrics and melody is evident in her songwriting.

After studying at the University of Manitoba Kim moved to a small Alberta town and soon began writing songs. It wasn't long before she realized that she wanted to pursue music as a career. She says, "There is nothing I love to do more than to sing and play guitar. It's a natural high for me when all the instruments and voices come together to make a beautiful sound. I like to express myself through my songs, and love when others connect to my lyrics." For Kim, finding a balance between personal experience and things that others can easily relate to is a crucial part of songwriting. As she explains, "Usually, I write songs either about myself or something I've been through, or sometimes they are about someone I know, or a situation that someone I know has been through. In this case, I try to put myself in their shoes, and think about how I would feel if I went through that experience."

After spending some time performing in Edmonton, Kim returned to Manitoba, where she met producer Jim Stoeber of Tegancat Music in Winnipeg. The two collaborated on a couple of songs for Listen, a various artists album released in the spring of 2007, and decided to continue writing songs for Kim's first solo project. When asked about the collaborative process, Kim says, "The collaboration is what makes the songs. When each person brings their life experience and musical experience to the table to inject into the song, it makes for higher quality songs that are more relatable to the listener. It also leads each person to challenge themselves to work and think in ways they maybe wouldn't have on their own, thus making them grow as a songwriter."

Of the songs on her album, Kim says that one of the most challenging, but also most fun songs to write was the swamp music tale of Kalena. Though it is a story set in the bayou, with characters that take on lives of their own, the personal element is present in the name of the song itself. The name Kalena comes from a combination of Kim's name and that of one of her band mates, Lena Hozaima, who plays mandolin and sings back up vocals. Other band members are Jim Stoeber (guitar, bass, vocals), Janice Baris (keyboards, percussion, vocals), and Ron Torpey (drums, percussion, vocals).

The name of Kim's band, the 62 Impalas, comes from the first song on her album, "62 Impala 409." As Kim explains, this is a "song with attitude. It's about a guy who is more in love with his car than with his girlfriend" but in the end, the girl has the upper hand, as she admits that the car "may be one of a kind, but so am I." With Kim's passion for strong lyrics and melody, and her versatility and drive as a performer, it's a claim that holds true and promises a bright road ahead.